Wind Eroded Landforms are Pediments, Pediplains, Playas, Deflation Hollows, And Caves, Mushroom Rocks, etc. Winds are also capable of degrading the land, but their erosion and transportation ability is inferior to that of the water.
The wind or Aeolian erosion takes place in the following ways, viz. deflation, abrasion, and attrition.
Deflation = removing, lifting and carrying away dry, unsorted dust particles by winds. It causes depressions known as blow outs.
Abrasion = When wind loaded with sand grains erodes the rock by grinding against its walls is called abrasion or sandblasting.
Attrition =Attrition refers to wear and tear of the sand particles while they are being transported.
Mushroom rocks
A mushroom rock, also called rock pedestal or a pedestal rock, is a naturally occurring rock whose shape, as its name implies, resembles a mushroom.
The rocks are deformed in a number of different ways: by erosion and weathering, glacial action, or from a sudden disturbance.
Mushroom rocks are related to, but different from, yardang.
Playas
A playa (also known as a pan, flat, or dry lake) is a depression with a flat floor found in interior desert basins.
They are found near the beaches in dry and semi-arid locations.
Playas are occasionally covered by water that slowly filters into the groundwater system or evaporates into the atmosphere, causing salt, sand, and mud to accumulate along the bottom and around the margins of the depression.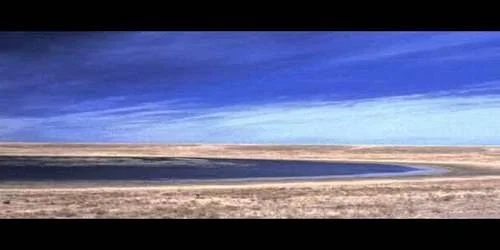 Demoiselles
These are rock pillars which stand as resistant rocks above soft rocks as a result of differential erosion of hard and soft rocks.
Bruptly from a gently sloping or virtually level surrounding plain.
Mesas (Table) and Buttes
Mesa is a Spanish word that translates to "table."
It's a flat, table-like landmass with a tough horizontal top layer and steep edges.
The hard stratum on the surface resists both wind and water denudation, protecting the underlying layer of rocks from erosion.
Continual denudation over time may convert Mesas in a given area to isolated flat-topped hills known as Buttes.

Zeugen
A table-shaped area of rock found in arid and semi-arid areas formed when more resistant rock is reduced at a slower rate than softer rocks around it.
Yardangs
Ridge of rock, formed by the action of the wind, usually parallel to the prevailing wind direction.
Inselbergs
A monadnock or inselberg is an isolated hill, knob, ridge, outcrop, or small mountain that rises abruptly from a gently sloping or virtually level surrounding plain.
Wind Eroded Landforms
Read more : Coastlines of Submergence