Water Resources are the various resources of water on Earth. About 71% of the surface of the earth is covered with water. However, the way that water is distributed on Earth appears to mean that only a small portion of the total amount of water that is present is fit for human consumption.
Availability of Water in India
India accounts for about 2.45 per cent of the world's surface area, 4 per cent of the world's water resources and about 16 per cent of the world's population.
The total water available from precipitation in the country in a year is about 4,000 cubic km.
India experiences an average precipitation of 1170 mm per year.
The availability from surface water and replenishable groundwater is 1,869 cubic km.
Out of this only 60 per cent can be put to beneficial uses.
Thus, the total utilizable water resource in the country is only 1,122 cubic km.
Water Resources of India can be classified into:

Surface water Resources
Groundwater Resources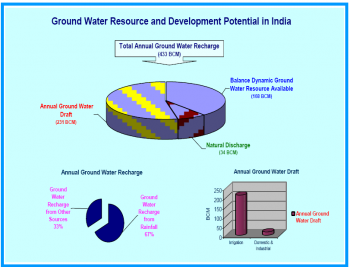 Surface Water Resources
In India, there are four significant surface water resources. They are rivers, lakes, ponds, and tanks.
In India, there are around 10,360 rivers and their tributaries with a length of more than 1.6 kilometers.
The total yearly flow in India's river basins is estimated to be 1,869 cubic kilometers. However, only roughly 690 cubics (37%) kilometers of accessible surface water can be used.

A four-month period accounts for roughly 90 percent of the annual flow of Himalayan rivers.
Capturing such resources is difficult and constrained because of the unavailability of adequate storage reservoir sites.
The amount of water that flows through rivers is determined by the catchment basin, the size of the river basin, and the amount of rainfall that falls within the catchment basin.
Within the catchment areas of the Ganga, Brahmaputra, and hence the Barak rivers, precipitation is abundant. These three rivers cover less than a third of India's total land area. However, it controls 60% of India's surface water resources.
The southern rivers, on the other hand, have significant flow variability throughout the year.
Groundwater Resources
The country's total replenishable groundwater resources are around 432 cubic kilometers.
About 46% of the total replenishable groundwater resources are found in the Ganga and Brahmaputra basins.
In the river basins of the northwestern area and sections of south India, groundwater utilization is relatively high.
India also relies heavily on groundwater resources, which account for more than half of all irrigated land and serve 20 million tube wells.
To conserve river waters and improve groundwater recharging, India has built about 5,000 major or medium dams, barrages, and other structures.
Read more : Effects of Cyclone on the Monsoon