With the declining availability of fresh water and increasing demand, the need has arisen of  conservation of water resources and effectively manage this precious life giving resource for sustainable development.
Attempts are to prevent pollution besides developing water-saving technologies and methods
Sustainable water supply in the long run requires watershed development, rainwater harvesting, water recycling and reuse, and conjunctive water use.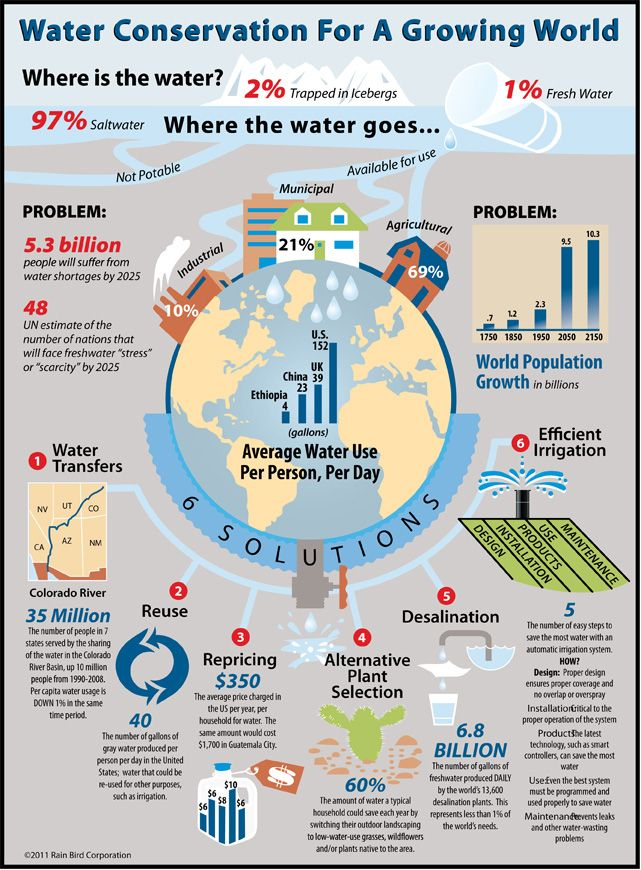 Conservation of Water resources can be done in following ways:
Preventing water pollution
Cleaning / rejuvenation of rivers is an ongoing process. It is the responsibility of the states and local bodies to ensure required treatment of sewage and industrial effluents to the prescribed norms before discharging into water bodies, coastal waters or land to prevent and control of pollution therein.
The Union ministry has supplemented efforts of states / UTs by providing financial and technical assistance for abatement of pollution in identified stretches of rivers in the country through the Namami Gange scheme for rivers in the Ganga basin, as well as through the National River Conservation Plan (NRCP) for other rivers
Rainwater Harvesting
It is a method to capture and store rainwater for various uses. It is also used to recharge groundwater aquifers
Rainwater harvesting increases water availability, checks the declining ground water table, improves the quality of groundwater through dilution of contaminants like fluoride and nitrates, prevents soil erosion, and flooding and arrests salt water intrusion in coastal areas if used to recharge aquifers
It can also save energy to pump out the groundwater, as groundwater recharge leads to a rise in the groundwater table
Rainwater collection can be especially beneficial in urban settings, where demand for water has already outstripped availability in most cities and towns.
Watershed management
The term "watershed management" refers to the effective management and conservation of surface and groundwater resources
It includes preventing run-off and storing and recharging groundwater using various techniques such as percolation tanks and recharge wells
Watershed management involves reasonable use of all-natural resources (land, water, plants, and animals) and the conservation, regeneration, and human resources present within a watershed
Aims: Looking to achieve a balance between natural resources and society simultaneously
Programmes for Watershed Development:

Haryali: It is a Central Government-sponsored watershed development initiative that aims to assist the rural population in saving water for drinking, irrigation, fisheries, and afforestation.
Gram Panchayats are executing the initiative with people's participation
Recycling and Reusing of water
Freshwater availability can be improved by recycling and reusing.
The use of lower-quality water, such as reclaimed wastewater, for cooling and firefighting, would be an attractive idea for industries looking to save money on water

For example, in urban areas, people can use water from bathing and washing utensils for gardening. This would reduce the water consumption of higher quality for drinking
Recycling has a lot of potential for replenishing water.
Agriculture
There is need to increase water usage efficiency, with use of Sprinklers and drip irrigation techniques
Also, in regions where there is deficit rainfall, implementation of dryland agricultural techniques could help.
The Policy initiatives for water conservation in India 

The Department of Water Resources, RD & GR has formulated the National Water Policy (2012), which advocates rainwater harvesting and conservation of water. It also emphasizes the need to augment the availability of water through the direct use of rainfall.
Central Ground Water Authority (CGWA) has been constituted under Section 3 (3) of the "Environment (Protection) Act, 1986" for the purpose of regulation and control of ground water development and management in the Country
The 'Jal Shakti Abhiyan' has been launched in 2019 with focus on five aspects

water conservation and rainwater harvesting
renovation of traditional and other water bodies
reuse of water and recharging of structures
watershed development
intensive afforestation
Drinking Water Sanitation

The identified over-exploited and water stressed areas in the states of Gujarat, Haryana, Karnataka, Madhya Pradesh, Maharashtra, Rajasthan, and Uttar Pradesh are taking up Atal Bhujal Yojana (ABHY), a Rs. 6000 crore scheme funded by the World Bank, for sustainable management of groundwater with community participation.
Master Plan for Artificial Recharge to Groundwater- 2020 has been prepared by CGWB in consultation with States/UTs which is a macro level plan indicating various structures for the different terrain conditions of the country
Department of Water Resources, RD& GR has instituted National Water awards to incentivize good practices in water conservation and ground water recharge.
Also Read : Oceans Resources