The Tropical Dry Evergreen Forests are unique forests that can only be found in Tamil Nadu and Andhra Pradesh. Its distribution is limited to a short coastal strip that stretches from Vishakapattinam in Andhra Pradesh to Ramanathapuram in Tamil Nadu in the south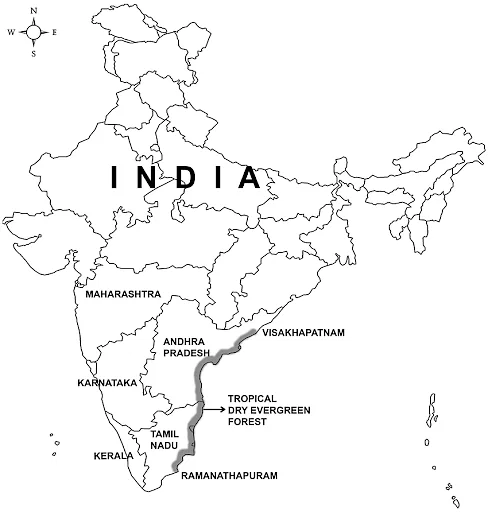 Distribution
Along the coasts of Tamil Nadu.
Climatic Conditions
Annual rainfall of 100 cm [mostly from the north-east monsoon winds in October – December].
Mean annual temperature is about 28°C.
The mean humidity is about 75 per cent.
The growth of evergreen forests in areas of such low rainfall is a bit strange.
Characteristics
Short statured trees, up to 12 m high, with complete canopy.
Bamboos and grasses not conspicuous.
The important species are jamun, tamarind, neem, etc.
Most of the land under these forests has been cleared for agriculture or casuarina plantations.

Casuarina plantations: They are rapid-growing, carefree species for sites and climates as varied as coastal sand dunes, high mountain slopes, hot humid tropics, and semi-arid regions.
Protected Areas of Tropical Dry Evergreen Forest
Reserves and protected areas cover 2% of the Tropical Dry Evergreen Forests. A further 6% is forested but not protected.
Temple groves and restricted forests are among the many tiny forest areas.
Guindy National Park in Chennai District, as well as Nanmangalam and Vandalur Reserve Forests in Kanchipuram District, are protected areas.
The Marakkanam reserve forest in Villupuram District encompasses the three forest regions of Marakkanam, Kurumpuram, and Agaram.
The Point Calimere Wildlife & Bird Sanctuary has a 17.26-square-kilometer enclave of dry evergreen forest, mangroves, and tidal wetlands.
Threats to Tropical Dry Evergreen Forest
95 % of the natural forest cover has been destroyed, and the species composition of the remaining forests has been altered by heavy human use, which includes the removal of all taller trees.
Since the ecoregion contains the metropolis of Chennai (Madras) as well as a number of other cities such as Pondicherry, Thanjavur, Kanchipuram, and Nellore, urbanization has a stronger negative impact.
Agricultural fields are encroaching on the area, wildlife poaching is rampant, the neighboring forests are vanishing, and commercial prawn farming is on the rise.
Also Read : Tropical Moist Deciduous Forests