National Investment and Infrastructure Fund  is a government-backed entity established to provide long-term capital to the country's infrastructure sector. It was set up in December 2015 as a Category-II Alternate Investment Fund. Across its three funds, it manages over USD 4.3 billion of capital.
Types of funds in NIIF
NIIF manages three funds: Master Fund, Fund of Funds and Strategic Fund.
The funds were set up to make investments in India by raising capital from domestic and international institutional investors.
Master Fund: It is an infrastructure fund with the objective of primarily investing in operating assets in the core infrastructure sectors such as roads, ports, airports, power etc.
Fund of Funds: The Fund of Funds anchor and/or invest in funds managed by fund managers who have good track records in infrastructure and associated sectors in India. Some of the sectors of focus include Green Infrastructure, Mid-Income & Affordable Housing, Infrastructure services and allied sectors.
Strategic Opportunities Fund: It is register as an Alternative Investment Fund II under SEBI in India. Its objective is to invest largely in equity and equity-linked instruments. It has been establish to provide long-term capital to strategic and growth oriented sectors in the country with the aim to build domestic leaders.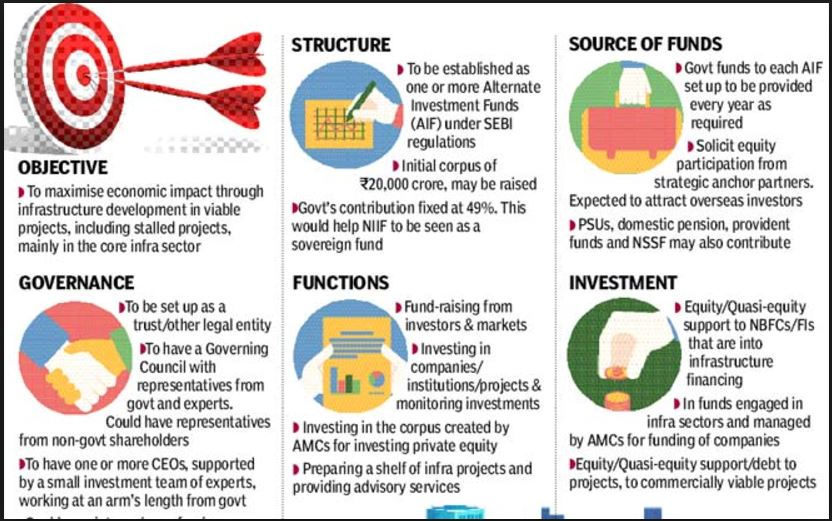 Functions of NIIF
The functions of NIIF are as follows:
Fund raising through suitable instruments including off-shore credit enhanced bonds, and attracting anchor investors to participate as partners in NIIF;
Servicing of the investors of NIIF.
Considering and approving candidate companies/institutions/ projects (including state entities) for investments and periodic monitoring of investments.
Investing in the corpus created by Asset Management Companies (AMCs) for investing in private equity.
Preparing a shelf of infrastructure projects and providing advisory service.
National Investment and Infrastructure Fund ,National Investment and Infrastructure Fund ,National Investment and Infrastructure Fund 
Also Read : Gati Shakti Scheme