In October 2021, a Digital platform was established under the Gati Shakti scheme to bring together 16 Ministries for integrated planning and implementation of infrastructure connectivity projects. The portal now has over 400 data layers available.
Prime Minister Narendra Modi urged state governments and the private sector to use the Gati Shakti portal to plan infrastructure projects and create special economic zones.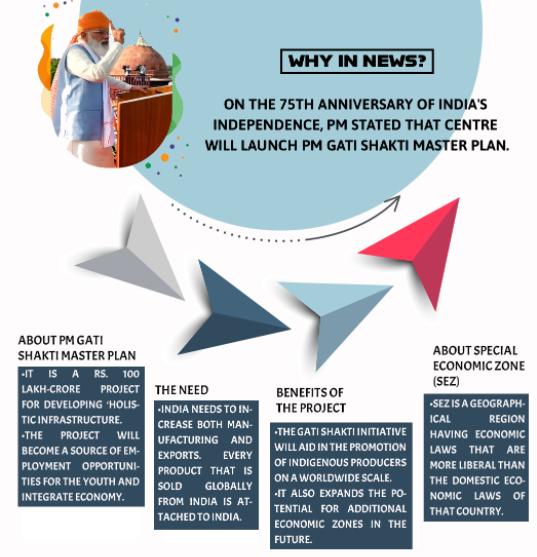 About PM Gati-Shakti National Master Plan:
 PM Gati Shakti Master Plan (2021), is a Rs. 100 lakh-crore project for developing 'holistic infrastructure'. It aims to ensure the speed (Gati) and Power (Shakti) of infrastructure projects in the next four years, with a focus on expediting works on the ground, saving costs and creating jobs, and bringing down the logistics cost.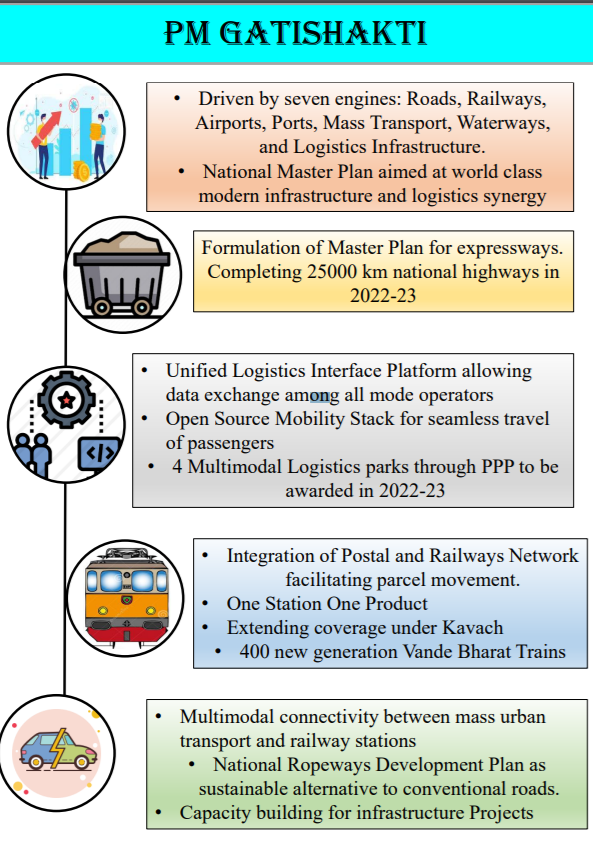 Gati Shakti scheme will give the necessary push to infrastructure development:
Boost to infrastructure: A plug-and-play model for industrial parks. It will subsume National Infrastructure Pipeline launched in 2019
Helps solve logistical issues: India's logistics cost burden is 13-14% of GDP, compared to 6-8% in more competitive economies.
Curbs red-tapism: g., the Railways has started a 'Common Drawing Approval System' on an online platform, so all the approvals can be accessed on one portal.
Increased coordination: Gati Shakti will bring together 16 infrastructure-related Ministries.
Incorporation of various projects from different ministries: Gati Shakti will incorporate the infrastructure schemes of various Union ministries and state governments: Bharatmala, Sagarmala, UDAN, inland waterways, dry/land ports, etc.
Targets under the PM Gati shakti Scheme:
Gati shakti has set targets for all infrastructure ministries and the targets to be achieved by 2024-25:
11 industrial corridors and 2 new defence corridors (Tamil Nadu and Uttar Pradesh), achieving a 1.7 lakh crore turnover in defence production.
Around 38 electronics manufacturing clusters
109 pharma clusters
Increase in the total cargo handled at Indian ports to 1759 MTPA.
Adding over 200 airports, helipads, and water aerodromes.
Extending 4G connectivity to all villages
Adding 17,000 km to the gas pipeline network is being plan.
Gati Shakti Digital Platform:
The creation of a common umbrella platform involves coordinating various ministries/departments in real-time to plan and implement infrastructure projects in an efficacious manner.
Expected Outcomes
The scheme will help mapping the existing and proposed connectivity projects.
Also, there will be immense clarity on how different regions and industrial hubs in the country are link, particularly for last mile connectivity.
A holistic and integrated transport connectivity strategy will greatly support Make in India and integrate different modes of transport.
It will help India become the business capital of the world.
Way Forward:
PM Gati Shakti scheme is a move in the right direction, but it needs to address structural and macroeconomic stability concerns arising from high public expenditure. Thus, this initiative must be support by a stable and predictable regulatory and institutional framework.
Also Read : Kudumbashree Programme