India is endowed with a rich variety of minerals and energy resources due to its varied geological structure. The vast alluvial plain tract of north India is devoid of minerals of economic use. The mineral resources provide the country with the necessary base for industrial development.
Classification of Minerals
METALLIC MINERALS

These contain metals in them. Iron ore, copper, Manganese, Nickel, etc. are important examples
These are further divided into
Ferrous Minerals

These have iron content in them
Iron-ore, Manganese, chromite, tungsten, nickel, cobalt are important examples

Non-Ferrous Minerals

These do not have iron content
Gold, silver, copper, lead, bauxite, tin, magnesium are important examples
Significance of Metallic Mineral:

the standard of living of the people living in a country is judged by the consumption of iron. It is the backbone of modern civilization and the foundation of basic industry.
NON-METALLIC MINERALS

These do not contain metal
Limestone, nitrate, potash, dolomite, mica, gypsum are important examples.
Coal and petroleum are also non-metallic minerals. They are used as fuel and hence are known as mineral fuels
Concentration of Minerals in three Broad Belts in India
The North- Eastern Plateau Region
It covers Chotanagpur (Jharkhand), Odisha Plateau, West Bengal, and parts of Chhattisgarh.
It has variety of minerals viz. iron ore coal, manganese, bauxite, mica.
The Southern-Western Plateau Region
This belt extends over Karnataka, Goa and contiguous Tamil Nadu uplands and Kerala.
This belt is rich in ferrous metals and bauxite and also contains high grade iron ore, manganese, and limestone.
This belt lacks in coal deposits except Neyveli lignite.
This belt does not have as diversified mineral deposits as the north-eastern belt.
Kerala has deposits of monazite and thorium, bauxite clay and Goa has iron ore deposits.
The North-Western Region
This belt extends along Aravali in Rajasthan and part of Gujarat and minerals are associated with Dharwar system of rocks.
Major Minerals: Copper, zinc.
Rajasthan is rich in building stones i.e., sandstone, granite, marble.
Gypsum and Fuller's earth deposits are also extensive.
Dolomite and limestone provide raw materials for cement industry.
Gujarat is known for its petroleum deposits.
Gujarat and Rajasthan both have rich sources of salt.
The Himalayan belt is another mineral belt where copper, lead, zinc, cobalt, and tungsten are known to occur. They occur on both the eastern and western parts. Assam valley has mineral oil deposits. In addition, off-shore areas near the Mumbai Coast (Mumbai High) also contain oil resources.
Distribution of Minerals
Ferrous Minerals in India
Iron Ore:
The largest iron ore reserve is witnessed in Asia.
Haematite and Magnetite are India's two main types of ore.
Iron ore has great demand in the international market due to its exceptional quality.
Its mines are close to the coal fields in the northeastern plateau area.
Odisha, Goa, Chhattisgarh, Jharkhand, Telangana, Tamil Nadu, Karnataka, and Andhra Pradesh have nearly 95 percent of total iron ore reserves.
Manganese:
Manganese: It serves as a vital raw material for smelting iron ore and is also used for manufacturing ferroalloys.
Manganese deposits are located in almost all geological formations. However, it is mainly associates with the Dharwar system.
Odisha is the highest producer of Manganese.
Non-Ferrous Minerals in India
Chemical combinations are where non-ferrous minerals are found, unlike their ferrous counterparts. India has an extremely less quantity of non-ferrous metallic minerals except Bauxite. Some examples of such minerals include aluminum, tin, copper, lead, nickel, titanium, zinc, and copper alloys like brass and bronze.
Bauxite:
The manufacturing of aluminum uses Bauxite ore.
Tertiary sediments on peninsular hill ridges or the plateau predominantly contain bauxite.
Odisha is the largest Bauxite producing state.
Other leading producers are Kalahandi and Sambalpur.
Copper:
The electrical industry requires copper as an essential metal for assembling electric engines, wires, generators, and transformers.
It is possible to make it into an alloy, draw it into a thin wire, shape it easily, and combine it with gold to provide stability to jewelry.
Singhbhum district in Balaghat district in Madhya Pradesh, Jharkhand, Alwar, and Jhunjhunu districts in Rajasthan are the major copper deposits.
Non-metallic Minerals in India
Nonmetallic minerals contain zero metallic substances found in young folded mountains and sedimentary rocks. Mica is the most critical nonmetallic mineral produced in India. The other minerals taken out for local consumption are limestone, dolomite, and phosphate.
Mica:
Mica is specifically utilizes in the electronic and electrical industries.
Mica effortlessly gets split into thin, stiff, and flexible sheets.
Mica in India is formed in Jharkhand, Rajasthan, Telangana, and Andhra Pradesh, followed by West Bengal, Madhya Pradesh, and Tamil Nadu.
Mineral Resources in India
Energy resources are conventional sources that are exhaustible. They are mineral fuels important for generating the power needed by industry, transportation, agriculture, and other economic sectors. These include:
Petroleum
Coal
Natural gas,
Nuclear energy minerals.
Coal:
Coal is one of the essential minerals uses to generate thermal power and smelting iron ore.
It is mainly found in rock series of two geological eras, Gondwana and tertiary deposits.
Jharia is the biggest coal area, followed by Raniganj.
Coal is associates with additional river valleys such as the Sone, Godavari, and Mahanadi.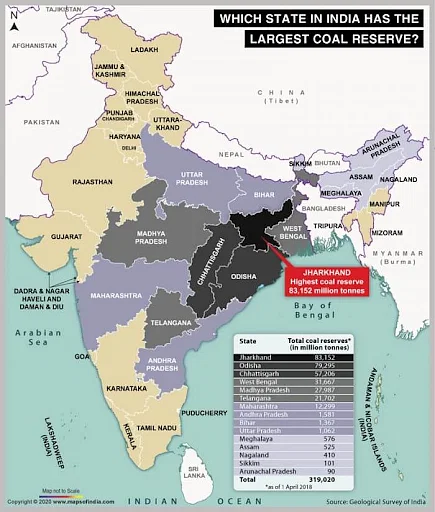 Petroleum:
Crude petroleum comprises hydrocarbons of liquid and gaseous forms differing in chemical composition, color, and specific gravity.
Petroleum is an essential energy source for all inner combustion motors in railways, automobiles, and aircraft.
Petrochemical industries process its numerous by-products, including synthetic rubber, fertilizer, vaseline, lubricants, synthetic fiber, medicines, wax, soap, and cosmetics.
Crude petroleum occurs in sedimentary rocks of the tertiary period.
Mineral & Energy Resources,Mineral & Energy Resources
Read More: Wetlands of India