Energy resources include all types of fuels utilized in the contemporary world, whether for heating, electrical energy generation, or other types of energy conversion activities.
Energy Resources Types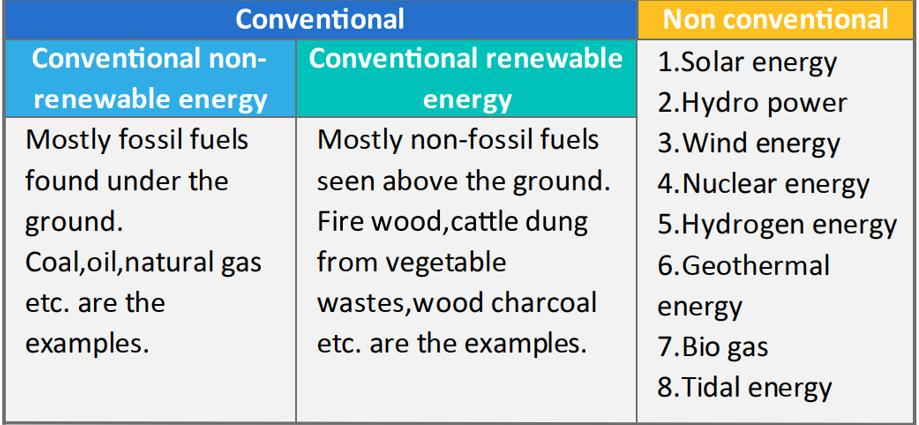 Conventional Energy Sources:
Conventional or Non-Renewable sources of energy are finite, except hydroelectric power.
Fossil fuels, like natural gas, coal, and oil, are among the most important non-renewable sources of power. These are the principal sources of electricity around the globe today. Around 85 percent of our energy requirements are fulfilled by the burning of fossil fuels.
Carbon is the major component in these fossil fuels. They are a great source of energy to meet our transport requirements.
Advantages of Energy from fossil Fuels:
Generating energy from fossil fuels is technologically simple and cost-effective.
Fossil fuels have an extremely energy-efficient calorific factor.
Fossil fuels are able to generate massive quantities of electricity in one location.
Transporting fossil fuels like gas and oil to power stations is possible with pipelines which makes it a simple job.
Gas-powered power plants are extremely efficient.
The construction of power stations that operate on fossil fuels is technologically quite simple and can be constructed in nearly every location.
Disadvantages of energy from fossil Fuels:
Pollution is the main drawback when using fossil fuels as an energy source. When the process of combustion of fossil fuels happens, lots of harmful gases (and fly-ash in the cases of coal) are released, causing pollution to the atmosphere. They include carbon dioxide, which traps the Sun's heat and contributes to global warming. Alongside carbon dioxide and coal, it emits sulphur dioxide, which can create acid rain.
The amount of fossil fuels available is finite and can't be replenished. As fast as they are used up will cause their reservoirs to fill up soon.
The extraction of fossil fuels such as coal has led to the destruction of large areas of land and has damaged the ecological balance in certain areas.
The extraction of fossil fuels, including coal is extremely difficult and is classified as among the top risky tasks. Sometimes it puts miners' lives at risk.
Natural gas use may cause unpleasant odours within the vicinity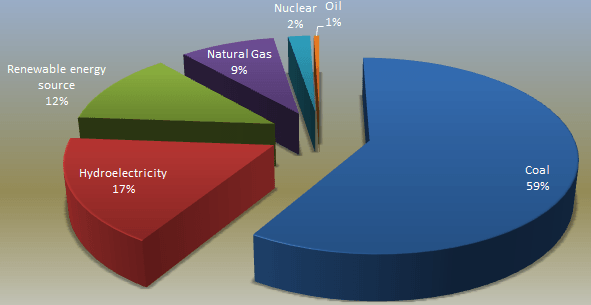 Non-Conventional Sources of Energy
Thermal Energy
67 % of total energy production
Generated by using fossil fuels (Coal, Petroleum, Natural gas)
No Geological conditions required
Limited reserves, Rising demands (cost) & non – ecofriendly.
Largest Producer → Maharashtra
To boost Thermal power production gov. has promoted Ultra Mega Power Projects (4000 MW & above)
Hydroelectricity
18 % of total energy production
Eco-friendly, Clean & Renewable
Small hydel power projects < 25 MW
Are counted under New renewable energy sources
Largest Producer → Andhra Pradesh
Central electricity authority (CEC) has estimated Hydel power potential of 84000 MW at 60 % load factor from 39000 MW at present
Nuclear Energy
26 % of total energy production
Energy obtained from atomic minerals viz. Uranium, Thorium, zircon, beryllium.
Nuclear Energy Provide colossal energy through a small quantity of substance.
Thorium → Found as monazite sand in lakes & sea beds..
Thorium → AP > TN > Kerala > Orissa constitutes 30 % of world reserves.
Largest Producer → Tamil Nadu
Very economical; does not produce green-house gases that pollute atmosphere.
Wind Energy
Non-conventional Renewable source of energy
Wind Energy is the 5th largest installed wind power capacity in the world
Largest Producer → Tamil Nadu
High cost as compared to the efficiency of power generated
Nagercoil (TN) and Jaisalmer (Rajasthan) are well known for effective uses of wind energy in the country.
Solar Energy
Non-conventional Renewable source of energy
Thermal + Photovoltaic → Sunlight to energy
High cost as compared to the efficiency of power generated
India plans to add 20000 MW of solar energy by 2022 under Jawahar Nehru National Solar Mission
The largest solar plant of India is located at Madhavpur, near Bhuj, where solar energy is use to sterilise milk cans.
Tidal Energy
Non-conventional Renewable source of energy
Oceanic tides can be use to generate electricity.
Floodgate dams are built across inlets
During high tide water flows into the inlet and gets trapped when the gate is close.
After the tide falls outside the flood gate, the water retained by the floodgate flows back to the sea via a pipe that carries it through a power-generating turbine.
In India, the Gulf of Kutch, provides ideal conditions for utilising tidal energy.
Experimental plant (150 kw) at Vizinjam (Thiruvananthapuram) & 900 mw at Kutch
Geo Thermal Energy
Refers to the heat and electricity produced by using the heat from the interior of the Earth.
Exists because, the Earth grows progressively hotter with increasing depth
It is so hot that when it rises to the earth's surface, it turns into steam.
This steam is use to drive turbines and generate electricity.
Two experimental projects have been set up in India to harness geothermal energy
Parvati valley near Manikarn in Himachal Pradesh and Puga Valley, Ladakh
Bio Gas
Energy produced from organic waste such as farm waste, shrubs, animal and human waste
Converted into energy by direct combustion or by conversion of such wastages into alcohol, methane, or other storage fuels
Bio Gas Provides pollution-free energy
Cheaper than most of the common fuels
The residue can be use as manure
Has higher thermal efficiency in comparison to kerosene, cow dung, coal and charcoal
OTEC
Ocean thermal energy conversion
Uses the difference between cooler deep and warmer shallow surface ocean waters to run a heat engine.
Significance of Non-Conventional Energy Resources
User-friendly.
The government of India has created a separate department for the management of non-conventional energy sources called The Department of Non-Conventional Sources of Energy.
Renewable resource-based power plants is that they have almost no to no fuel costs.
These resources can also be use to promote local business engagements and assist India's unorganized sector and unemployment problems.
These energy resources are pollution-free, abundant, environmentally friendly, and cost-effective.
Non-Conventional Energy Resources – Issues
Supply is inconsistent and unreliable
Earthquakes, floods, sinkholes, tornadoes, hurricanes, and other natural disasters can all cause nuclear plant damage, resulting in leaks and environmental contamination.
When it comes to non-conventional energy sources, pollution is a major ecological concern.
Large-scale algae production, maintenance, and harvesting can result in exorbitant costs.
Toxic emissions from geothermal plants have been link to sulfur dioxide, silica, and heavy metal deposits of mercury, arsenic, and boron.
Read Also : Interlinking of Rivers