Lakes are static bodies of water that are surrounded by land on all sides. They vary in size and depth.
A lake is a huge body of water that is deeper and bigger than a pond. A sizable body of water is encircled by land. A lake is not a sea, nor is it the same as an ocean. Even though some lakes are very large, they don't flow like rivers do. Most lakes on Earth are freshwater bodies of water. There are several artificial lakes and reservoirs that were created to store water for irrigation, industry, or residential usage.
When a lake's water evaporates quickly and the surrounding terrain contains a lot of salt, like in very arid regions, the lake's water has a high percentage of salt, earning it the name "salt lake."
Importat Lakes of India
Important Rivers of India:
Rivers play a major role in the development of an economy. Most of the river systems in India either merge with the Bay of Bengal in the east or with the Arabian Sea in the west. Some of them also have inland drainage. But the origin point of all the major river systems can be traced back to the three major water sources.
Dams of India :
A dam is a barrier that stops the flow of water and results in the creation of a reservoir. Dams are mainly built in order to produce electricity by using water. This form of electricity is known as hydroelectricity.
Reservoirs created by dams not only suppress floods but also provide water for activities such as irrigation, human consumption, industrial use, aquaculture, and navigability.
Important Dams of India: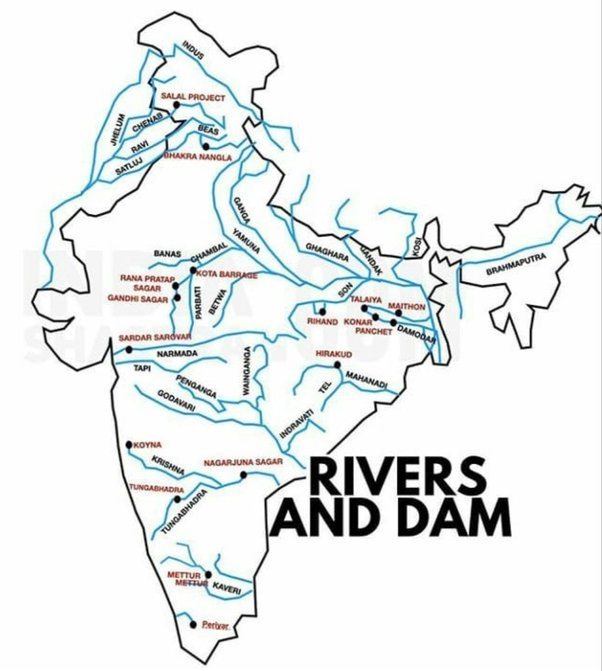 Lakes- Rivers & Dams,Lakes- Rivers & Dams
Read Also: Water Resource in India