The tropical wet evergreen forests (Rain Forest are essential in not only promoting greenery on the planet, but they are also useful in the continual survival of animals and plants in the forest ecosystem. The trees are evergreen as there is no period of drought. They are mostly tall and hardwood.
Climatic Conditions
Annual rainfall exceeds 250 cm
The annual temperature is about 25°-27°C
The average annual humidity exceeds 77 percent and
The dry season is distinctly short.
Characteristics
Evergreen: Due to high heat and high humidity, the trees of these forests do not shed their leaves together.
Mesophytic: Plants adapted to neither too dry nor too wet type climate
The tropical wet evergreen forest in India is usually found in areas receiving more than 200 cm of rainfall and having a temperature of 15-30 degrees Celsius.
They occupy about 7% of the earth's surface.
They are found mostly near the equator.
They have sparse undergrowth interspersed with clearings
They have a scarce presence of litter (organic matter settling on the ground)
These forests are dense and multi-layered.
They harbor many types of plants and animals.
The forests constitute an important part of the environment and ecology.
These trees are an important component of the Forest Biology and ecosystem, that helps to promote life in the ecosystem. This allows the plants and animal life to harmonize and live with one another in absolute peace.
Tropical Wet Evergreen Forests in India
Tropical wet evergreen forests can be found in the southern states of Maharashtra, Karnataka, Tamil Nadu, Kerala, and the Andaman and Nicobar Islands, as well as the entire northeastern region, including West Bengal's sub-mountain division.
These woods can be found on the plains, on low hills and gentle slopes in the foothills of the Himalayas, and at elevations ranging from near sea level to around 1000–1200 m.
Generally, forests in the plains and on lower slopes have been cleared in the past, such as along the Western Ghats, where this type is absent from the coastal plain but appears at 500 metres and extends up to 1500 metres.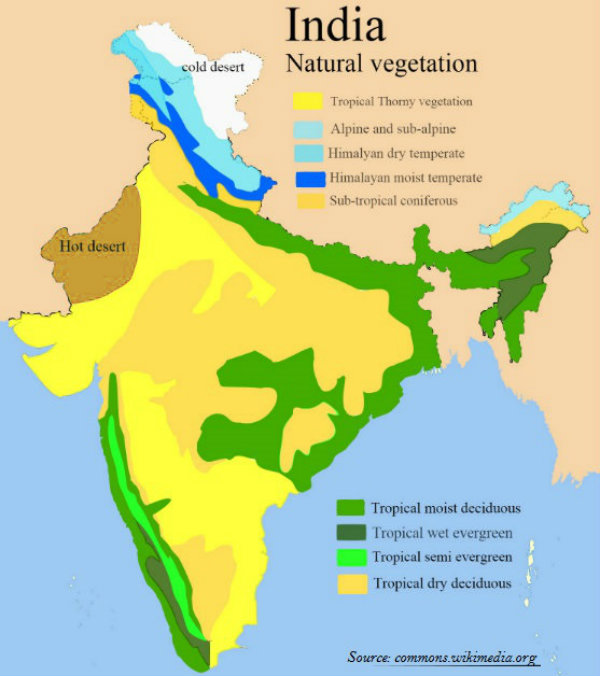 Also Read : Forests of India