Transport and communication aid in the development and growth of trade and commerce by facilitating the transfer of products, commodities, and ideas from one area to another. Commerce from a hamlet to an international market is critical to the economy; trade requires transportation and communication. 
Railways
Indian railway network is the fourth largest in the world after Russia, the U.S.A. and Canada.
Distribution of Indian Railways
The North Indian Plain

This region has a dense network of railways from Amritsar to Haora
Dense population, development of Industry & Agriculture, large scale Urbanisation have helped in development of Railways

The peninsular plateau

The whole of peninsular plateau has hilly and plateau terrain, which hinders the development of railways
The population density is also moderate here
For such reasons, except, Saurashtra and Tamil Nadu, a relatively open and more lose network has developed here

The Himalayan region

The rugged terrain, hill and valley topography, backward economy and sparse population are factors responsible for the sparse rail network in the region
Also, there are practically no railway line in North-Eastern states of Meghalaya, Tripura, Arunachal Pradesh, Mizoram, Manipur and Nagaland

These areas have rough terrain with thick forests
Hence, construction of railways under these condition is a difficult and costly affair
4.The coastal plains
There is distinct contrast in rail network between eastern and western coastal plains
The Eastern Coastal plain is quite wide and permits the construction of railways
Significance of the Indian Railways
Railways provide the cheapest and most convenient mode of passenger transport both for long distance and suburban traffic
Railways have played a significant role in the development and growth of Industries. Growth of textile Industry in Mumbai, Jute Industries around Kolkata are largely due to development of railway network in these areas
Agriculture also owes its growth to railways to a great extent. Now farmers can sell their agricultural produce to distant places
Railways have been helpful in removing isolation between cities and countryside; and have played a significant role in dissemination innovations and new ideas
Railways are particularly suited for long distance journey; and hence provide a strong medium of national integration
Railways carry relief and rescue teams to the affected areas, during times of natural calamities. Hence, they play a part in mitigating the sufferings of the people
Railways help in facing artificial calamities like social, political, religious disturbances, insurgency, etc. It facilitates easy movement of police, troops, defence equipment etc, during times of emergency
METRO RAIL
Metro Rail offers fast, cheap and comfortable journey in metropolitan cities of India
It helps in reducing pressure on the existing road transport and provides clean and eco-friendly transport at the local level
It is a part of rapid mass transport; and first rapid transit system in India was the Kolkata Metro, which started operations in 1984
The Delhi Metro was India's first Modern Metro and third rapid transit system in India, which started its operations in 2002
After the success of Metro Rail in Delhi, other cities like Bengaluru, Hyderabad, have planned to ease the public transit system
Government Initiatives to improve Railways Sector in India
In June 2021, the Central Government approved the implementation of a 235 km semi high-speed rail corridor between Pune and Nashik in Maharashtra. The cost of building this project will be Rs. 16,039 crore
In April 2021, Indian Railways completed the arch closure of the under-construction Chenab Bridge which is the world's highest railway bridge. Chenab Bridge is 1315 m long and will be 35 meters higher than Eiffel Tower in Paris
In July 2020, the Ministry of Railways has invited Request for Qualifications (RFQ) for private participation in operating passenger train services across 109 Origin Destination (OD) routes
On September 22, 2020, Indian Railways sanctioned a feasibility study for seven bullet train projects – all open to PPP investments.
The Indian Railway launched the National Rail Plan, Vision 2024, to accelerate implementation of critical projects, such as multitrack congested routes, achieve 100% electrification, upgrade the speed to 160 kmph on Delhi-Howrah and Delhi-Mumbai routes, upgrade the speed to 130 kmph on all other golden quadrilateral-golden diagonal (GQ/GD) routes and eliminate all level crossings on the GQ/GD route, by 2024
Roadways
The pathways and unmetalled roads have been used for transportation in India since ancient times. With the economic and technological development, metalled roads and railways were developed to move large volumes of goods and people from one place to another. Roads happen to be the most popular mode of transportation.
India has one of the largest road networks in the world with a total length of 5,897,671 kilometers (3,664,643 mi) as of 31 March 2017. About 85 percent of passengers and 70 percent of freight traffic are carried by roads every year. Road transport is relatively suitable for shorter distance travel.
For the purpose of construction and maintenance, roads are classified as

National Highways (NH),
State Highways (SH),
Major District Roads, and
Rural Roads.
National highways
The main roads which are constructed and maintained by the Central Government are known as the National Highways.
These roads are meant for inter-state transport and movement of defence men and material in strategic areas.
These also connect the state capitals, major cities, important ports, railway junctions, etc.
India has 142,126 km (88,313 mi) of National Highways as of April 2019. The National Highways constitute only 2 percent of the total road length but carry 40 percent of the road traffic.
Golden quadrilateral: Golden Quadrilateral comprises construction of 5,846 km long 4/6 lane, high-density traffic corridor, to connect India's four big metro cities of Delhi-Mumbai-Chennai-Kolkata. With the construction of the Golden Quadrilateral, the time-distance and cost of movement among the megacities of India will be considerably minimized.
North-South and East-West Corridor: North-South corridor aims at connecting Srinagar in Jammu and Kashmir with Kanyakumari in Tamil Nadu (including Kochchi-Salem Spur) with a 4,076 km long road. The East-West Corridor has been planned to connect Silchar in Assam with the port town of Porbandar in Gujarat with 3,640 km of road length.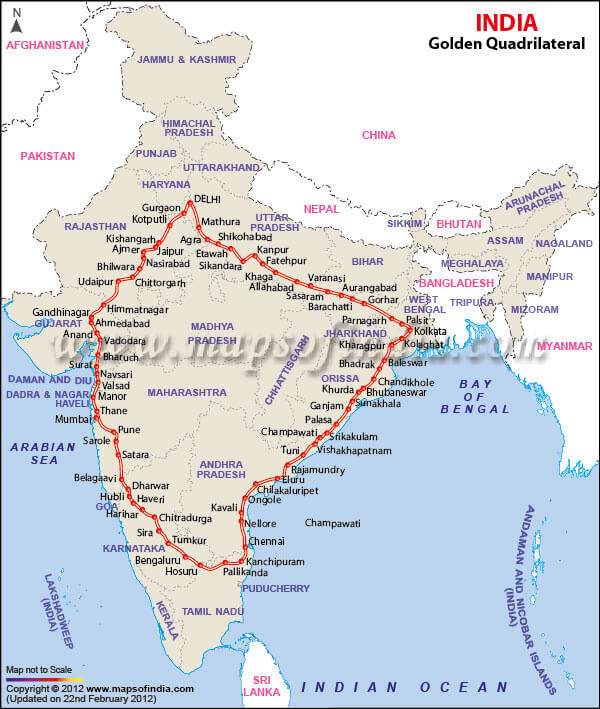 Inland
Prior to the development of railways, it was the primary form of transportation. It was, nevertheless, up against stiff competition from road and rail transportation.
Furthermore, diversion of river water for agricultural reasons rendered them impassable in major sections of their courses.
India has 14,500 km of navigable rivers, which account for around 1% of the country's transportation. It consists of rivers, canals, backwaters, streams, and so on.
Water Transport
In India, waterways are an essential means of transportation for both passenger and commercial traffic.
It is the least expensive mode of transportation and is best suited for transporting large and bulky items.
It is a fuel-efficient and environmentally beneficial means of transportation.
Water transport is classified into two types:

inland waterways
oceanic waterways.
Air Transport
Air travel is the quickest way to get from one location to another. It has cut distances by reducing travel time.
It is critical in a big country like India, where distances are great and topography and climatic conditions vary greatly.
Air India is in charge of air travel in India. Many private firms are now offering passenger transportation.
Air India offers international air services for both people and cargo.
Through its services, it links all of the world's continents. Some private enterprises have also begun operations in other nations.
In 2010, the domestic movement involved 520.21 lakh passengers and about 23 lakh metric tonnes of cargo.
Communication
The communication system aids in the growth of the economy, social interactions, and the promotion of cultural unity.
Internationally, it brings people from all over the world closer together.
In the case of an approaching tragedy, accident, or emergency, quick methods of communication spread the word throughout the globe, allowing relief to be brought to the scene instantaneously.
Radio
Television
Cinema
Internet
Transport and Communication of India,Transport and Communication of India,Transport and Communication of India
Read Also : AI supercomputer 'AIRAWAT'