Context:
Between 2002 and 2022, about 95% of India's groundwater depletion occurred in north India mainly as a result of increased groundwater pumping to meet irrigation demands for crops.
As groundwater use and summer monsoon rainfall variability are the two main drivers of groundwater storage, climate change can throw new challenges for the sustainability of groundwater.
Groundwater Scenario in India:
Availability:
Groundwater is the water that seeps through rocks and soil and is stored below the ground. The rocks in which it is stored are called aquifers.
This hidden resource accounts for just 0.62% of the total water and 30% of the freshwater available on earth.
In India, out of the 1,123 BCM/year usable water resources of the country, the share of groundwater is 433 BCM/year (39%).
Groundwater crisis in India:
Groundwater is India's most used water resource accounting for a quarter of total GW extraction in the world.
The challenges in groundwater resource management are complex and multifaceted. These include –

Unregulated extraction; Excessive irrigation; Poor knowledge of GW management system; GW pollution; Climate change

As per the 2021 CAG report, groundwater extraction in India increased from 58% to 63%, between 2004-17, exceeding the groundwater recharge rate.
Over extraction at the current rate can threaten nearly 80% of drinking water over the next two decades.
Governance:
The legal framework in India does not explicitly define groundwater ownership and rights, as the archaic Indian Easement Act, 1882, still determines these.
These rights tied to land ownership rights exclude a large part of the society and lead to violation of the fundamental right to water and the right to life (Article 21).
The Central Groundwater Board (CGWB) was formed in 1970 specifically to develop groundwater policies and programs.
The Central Ground Water Authority (CGWA) was constituted under the Environment (Protection) Act, 1986.
In 2004, the SC of India propounded the 'public trust doctrine' – making groundwater a matter of private ownership would be unjustified.
Atal Bhujal Yojana (2019), Jal Shakti Abhiyan (2019) and Aquifer Mapping and Management Programme are some of the initiatives of the government of India for groundwater management.
Challenges to Groundwater Sustainability:
Climate warming and unsustainable groundwater extraction:

Warming climate will increase the frequency of hydro-climate extremes – floods and droughts.
Warming climate will also increase the amount of summer monsoon rainfall.
However, the projected increase in groundwater for irrigation can cancel the benefits of increased precipitation (in groundwater recovery) in the future.

The role of increased evapo-transpiration due to warming climate:

Evapo-transpiration is the sum of all processes by which water moves from the land surface to the atmosphere via evaporation and transpiration.
It will limit water availability for groundwater recovery.
Imperative to Reduce Groundwater Use for Irrigation: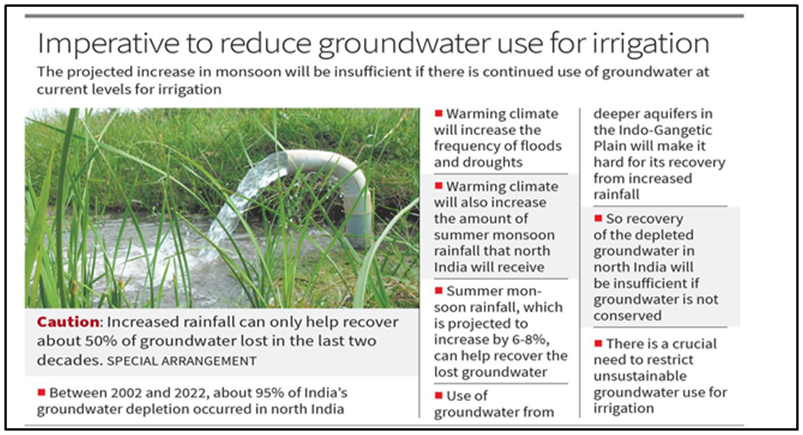 Way Ahead:
There is a crucial need to restrict unsustainable groundwater use for irrigation. This can help in recovering groundwater storage with increased rainfall (due to climate change).
There is a compulsion to make irrigation more efficient to promote groundwater conservation to ensure long-term sustainability especially during periods of drought.
Satellite observations [from the GRACE Satellites of NASA] to understand the variability of groundwater storage and plan conservation initiatives accordingly.
Read also:- Landforms Formed Due To Groundwater Erosion