Context: As compared to edible oil, India has relatively achieved Atma Nirbharta (self-reliance) in pulses.
Edible oil production in India
Import of edible oil by India: The quantum of imports has surged from ~8 mt to 16 mt between 2013-14 and 2022-23 (from ~$7 to 21 billion in value terms).
Govt efforts to increase edible oil production
National Food Security Mission – Oilseeds and Oil Palm (NFSM-OS and OP): The government has been implementing this Centrally-sponsored scheme from 2018-19 to increase the production and productivity of oilseeds in the country.
National Mission on Edible Oils (Oil Palm) [NMEO (OP)]
Concerns: The productivity (yield) gap between improved technology and farmers' practices ranged from 21% in sesame to 149% in sunflower.
Case of pulses
India is the largest producer (25% of global production), consumer (27% of world consumption) and importer (14%) of pulses in the world.
Though pulses are grown in both Kharif and Rabi seasons, Rabi pulses contribute more than 60% of the total production.
Read also:- GM food and sustainable food production
Import data
In quantity terms, India's imports of pulses came down from 6.61 mt in 2016-17 to 2.52 mt in 2022-23.
Breakup of India's imports of major pulses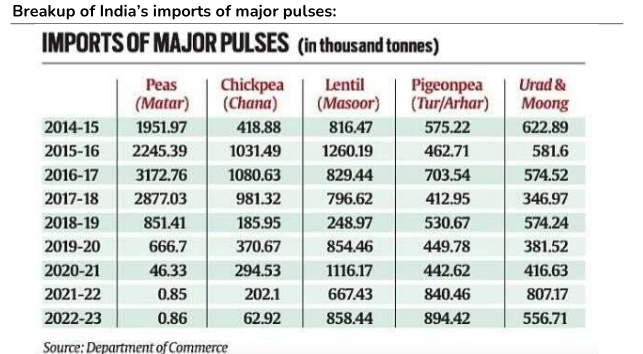 Reasons behind the reduction in pulses imports
Higher domestic production: India's pulses output has increased from ~19 mt in 2013-14 to 28 mt in 2022-23, which translates into a self-sufficiency ratio of over 90% in pulses (40% for edible oils).
Imports of chickpea (chana) have recorded dramatic drops: The boost to chana production came from two key government measures,
The first is the levy of a 60% import duty on chana since March 2018.
The second intervention has been government procurement at minimum support prices (MSP).
These incentivised Indian farmers to expand the area under the pulses crop grown during the rabi (winter-spring) season.
Concerns
Arhar/Tur/pigeon pea is the problem: Arhar imports from Mozambique, Myanmar, Tanzania, Malawi and Sudan hit a record0.9 mt in 2022-23.
Implications of imports: The overall import figures have not significantly reduced as a result of the erratic production of most non-chana pulses. This may result in inflation amid worries about El Nino.
Way ahead
The government must address micro-irrigation, quality seeds, marketing infrastructure and government policy issues to decrease dependency on imports.
Technology and market support to farmers are the key to increasing oilseed production.
Read also:- National Medical Devices Policy 2023
Pulses and Edible oil production in India