The Indian agriculture sector employs the largest female labor force in the country which is close to 65%. Agriculture employs roughly two-thirds of India's population. It is a primary activity that generates food grains as well as raw materials for industries. Since India is geographically vast, it has a diverse range of food and non-food crops that are grown during three main cropping seasons: rabi, Kharif, and zaid.
Types of Major Crops In India:
Based on seasons, Major Crops In India are classified as follows:
1. Kharif Crops
The Kharif crop is also known as the monsoon crop in India.
They are typically sown with the starting of the rains in July and during the southwest monsoon season.
Gujarat is the largest cotton producing state in India. 
The prime Kharif crops in India include: Millets, Cotton, Soyabean, Sugarcane, Turmeric, Rice, Maize, Pulses, Groundnut, etc. West Bengal, UP, Andhra Pradesh, Punjab, and Tamil Nadu are India's major rice production states. 
However, the cultivation varies from region to region.
2. Rabi Crops
The Rabi crops are also known as winter crops or Spring harvest.
The seeds are sown in the last month of October and harvested in the middle of March and April.
This is exactly the opposite of Kharif crops.
The main Rabi crops in India include Wheat, Barley, Mustard, Sesame, Peas, etc. These are usually grown in Dry areas.
3. Zaid Crops
Zaid Crop is grown only in very rare parts of the country.
These are harvested from March to June.
Popular examples of Zaid crops are Muskmelon, Watermelon, Vegetables of the Cucurbitaceae family such as bitter gourd, pumpkin, ridged gourd, etc.
Types of Crops Based on Cultivation-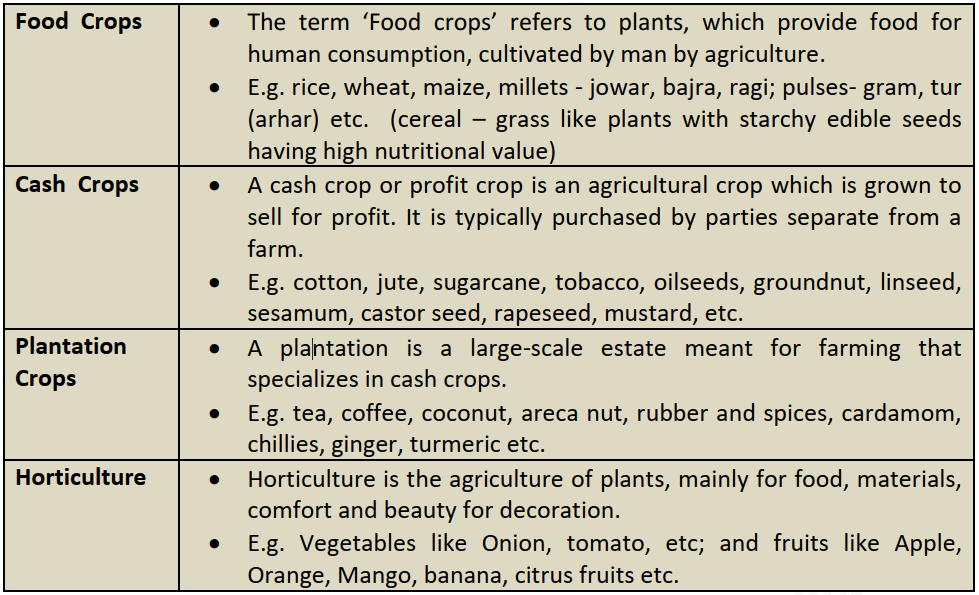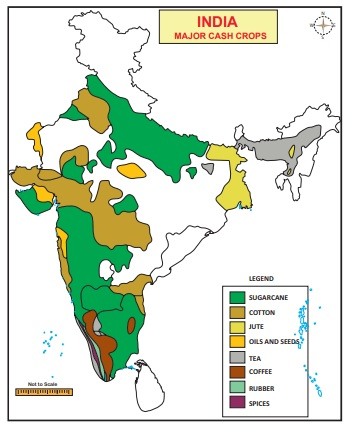 Major Crops In India
The prime crops grown in India are Rice, Wheat, and Maise. The human populace depends on these pulses, and major cultivation takes place around the country. Madhya Pradesh is India's largest pulses producing state, and the farmers are passionate enough and are passing the legacy to future generations.
Rice
The weather is hot, with temperatures ranging from 22 to 32 degrees Celsius and high humidity.
The annual rainfall ranges from 150 to 300 cm.
Soil type: Loamy, clayey soil with a lot of clay.
The major rice-producing states in India are West Bengal, Punjab, Uttar Pradesh, Andhra Pradesh, and Bihar.
It provides the majority of the sustenance for Indians.
India is the world's second-largest rice producer, after China, and has Major Crops In India.
In states like Assam, West Bengal, and Odisha, paddy is grown three times a year. Their names are Aus, Aman, and Boro.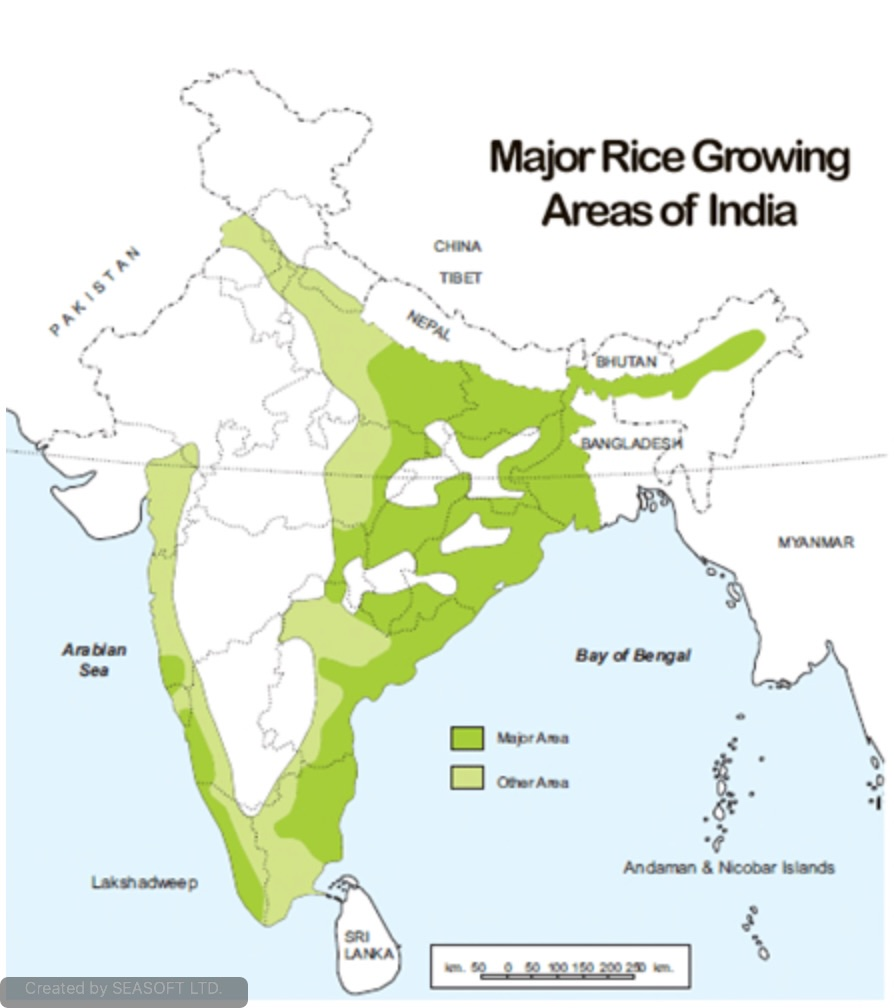 Wheat
In bright sunlight, temperatures should range from 10-15 °C (sowing time) to 21-26 °C (ripening and harvesting time).
Rainfall of 75-100 cm is forecast.
Fertile loamy and clayey loamy soils with good drainage
The major wheat-producing states are Uttar Pradesh, Punjab, Madhya Pradesh, Haryana, and Rajasthan.
India is the world's second-largest producer after China.
The largest cotton-producing state in India is Gujarat.
In north and north-western India, this is the second most important cereal crop and the primary food crop.
The Green Revolution's success boosted the growth of Rabi crops, particularly wheat.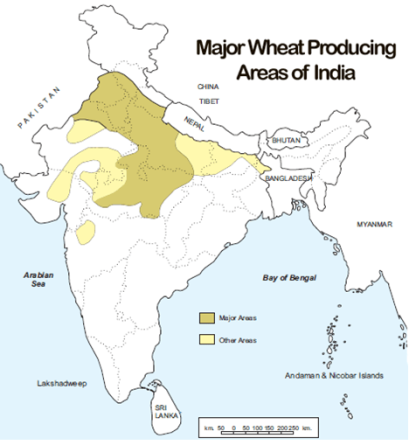 Maize
The weather is warm, with temperatures ranging from 21 to 27 degrees Celsius.
Rainfall: There was a lot of rain.
The soil type is old alluvial soil.
The top maize-producing states are Karnataka, Maharashtra, Madhya Pradesh, Tamil Nadu, and Telangana.
India is the sixth-largest producer in the world.
It can be used as both food and fertiliser.
The introduction of modern inputs such as High-Yielding Variety seeds, fertilisers, and irrigation has enhanced maize output.
The Maize Technology Mission is one of the Government's maize initiatives.
India's Changing Cropping Patterns
Cropping pattern is a dynamic concept that changes over time and space. It is defined as the proportion of land under various crops at any given time. Over time, a variety of crops may be grown in combinations and rotations.
Rainfall, climate, temperature, soil type, technology, and farmers' socio-economic conditions all influence cropping patterns in India.
These changes in cropping patterns were primarily caused by an increase in crop prices. Cropping patterns in India have changed dramatically since independence.
Cropping patterns changed as a result of the Green Revolution. Rice was introduced to the states of Punjab, Haryana, and Uttar Pradesh.
Because of the introduction of new technologies in Indian agriculture, crop cultivation has become very profitable and productive.
Farmers are shifting away from traditional non-cash/non-commercial crops such as cereals and pulses and toward cash/commercial crops such as oilseeds, fruits, vegetables, spices, and so on.
Farmers have altered their crop patterns in order to reap the benefits of economic expansion as well.
Climate change has influenced the Indian monsoon, causing cropping patterns to shift.
Population growth and urbanization have resulted in land conversion, increased intensive farming, and altered cropping patterns.
Read also : Agro climatic zones in India