Land Reforms usually refers to redistribution of Land from rich to poor. It include Regulation of Ownership, Operation, Leasing, sale and Inheritance of Land.
Land reform is the major step of government to assist people living under adverse conditions.
The purpose of land reform is to help weaker section of society and do justice in land distribution.
Objectives of Land Reforms
To eliminate the intermediaries of India's semi-feudal landlordism system, i.e. the zamindars.
Bring about economic and social equity, as well as social justice for past atrocities against farmers.
Land reforms would also prevent landlords from exploiting tenant farmers.
We must motivate farmers and implement practices to increase agricultural output.
To ensure the rational or scientific use of limited agricultural lands by imposing land holding limits, consolidating land holdings, and creating economic land holdings.
India's land reform policy had the following specific goals:

The first step is to remove any impediments to increasing agricultural production that arise from the agrarian structure passed down from generation to generation.

The second goal, which is closely related to the first, is to eliminate all elements of exploitation and social injustice from the agrarian system.
To provide security to the soil tiller, and to ensure equality of status and opportunity to all sections of the rural population.
Land Reforms Undertaken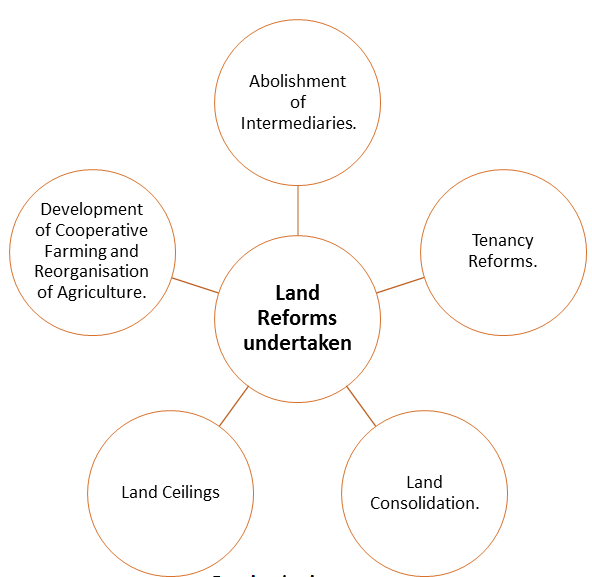 Reasons for Failure of Land Reforms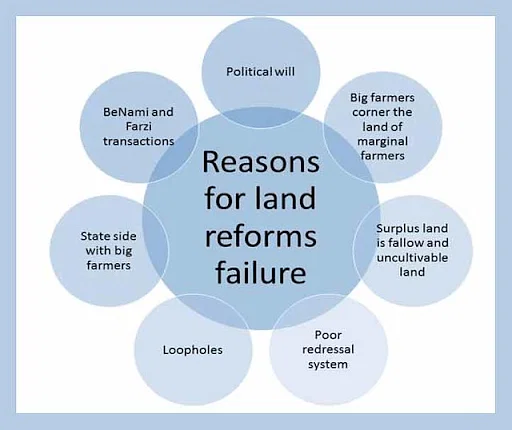 Role of Land reforms in Agricultural Development
Small farms tend to be more productive than large farms.Economists widely document this inverse relationship between farm size and productivity.

The inverse relationship between farm size and productivity suggests that land reform could raise productivity by breaking (less productive) large farms into several (more productive) small farms.

Owner-cultivated plots of land tend to be more productive than those under sharecropping tenancy.

lower productivity under sharecropping suggests that land reform could raise productivity by converting sharecroppers into owner-cultivators.

On the other hand, some experts advocate Land Consolidation:

Due to the growing pressure of population on land and the limited opportunities for work in the non-agricultural sector, there is an increasing trend towards sub-division and fragmentation of landholdings.
Consolidating plots makes the task of irrigation management, land improvement and personal supervision of different plots efficient and easier, thereby improving productivity.

Agricultural Credit: Access to credit becomes easier due to land ownership under tenancy law. Access to credit & increase in land holdings incentivize farmers to invest in new farming practices.
The reclamation of wastelands resulted in increased production, leading to food sufficiency.
Government initiatives
Right to Fair Compensation and Transparency in Land Acquisition, Rehabilitation and Resettlement Act, 2013
The Right to Fair Compensation and Transparency in Land Acquisition, Rehabilitation and Resettlement Act, 2013, currently governs land acquisition, and it came into force on January 1, 2014.
Prior to this, the Land Acquisition Act, 1894 governed land acquisition
Model Agricultural Land Leasing Act, 2016
Niti Aayog came up with the Model Agricultural Land Leasing Act, 2016. To review the existing agricultural tenancy laws of various states, the NITI Aayog had set up an Expert Committee on Land Leasing headed by T Haque.
The model Act seeks to permit and facilitate leasing of agricultural land to improve access to land by the landless and marginal farmers.
It also provides for recognition of farmers cultivating on leased land to enable them to access loans through institutional credit.
GoM established by the Prime Minister's Office to resolve differences on Model Agricultural Land Leasing Act.
Draft Model Contract Farming Act, 2018
The government has released the Draft Model Contract Farming Act, 2018, to strengthen rules and regulations regarding contract farming.
SWAMITVA scheme
PM launched 'Swamitva Yojana' on Panchayati Raj Diwas to map rural residential land ownership using drones.
The scheme aims to revolutionise property record maintenance in India. The Panchayati Raj ministry is piloting the scheme to measure residential land in villages using drones, creating a non-disputable record.
Property card for every property in the village will be prepared by states using accurate measurements delivered by drone-mapping.
These cards will be given to property owners and will be recognised by the land revenue records department.
Present Coverage Area: The program is implemented in six states: Haryana, Karnataka, Madhya Pradesh, Maharashtra, Uttar Pradesh, and Uttarakhand.
Way Forward
NITI Aayog and industry advocate large-scale land leasing for viable holdings, promoting income and employment in rural areas.
This cause would be facilitate by the consolidation of landholdings.
We must accomplish modern land reform measures such as land record digitisation at the earliest.
Read Also: Revolt of 1857