Hydroelectricity is a renewable energy source that uses the potential energy of the water stored in the dams, reservoirs, flowing rivers etc. The falling or flowing water rotates the turbine which spins a generator and the mechanical energy of the generator is converted to electric energy and hence the electricity is generated from the water.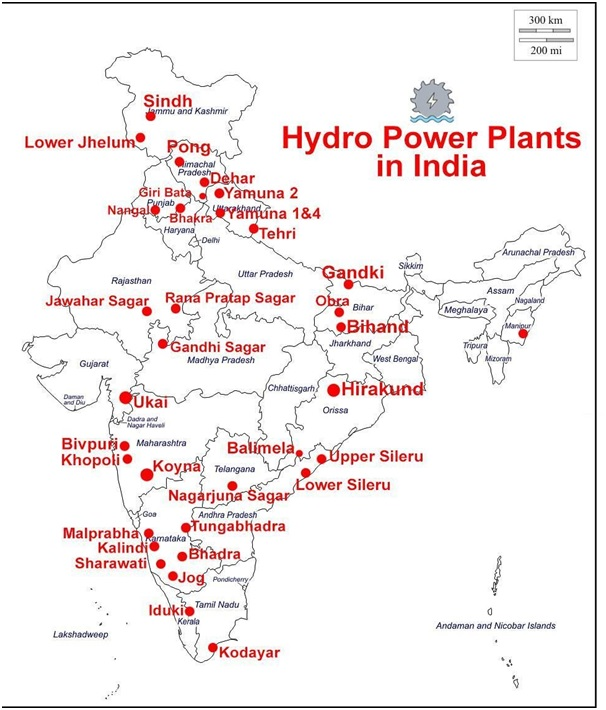 Major Power Projects in India
Hydroelectric Power Plants in India 
Sr
Hydroelectric Power Plant
River
Hydroelectric Power Plant
Year of Commission
1.
Nagarjuna Sagar Dam
Krishna
Andhra Pradesh
1967
2.
Srisailam Right Bank Power Station Project
Krishna
Andhra Pradesh
1982
3.
Shivanasamudra Hydro Power Project
Kaveri
Andhra Pradesh
1902
4.
Karbi Langpi Hydro Electric Project (KLHEP)
Borpani River
Assam
2007
5.
Kopili Hydro Electric Project
Kopili River
Assam
1984
6.
Kameng Hydro Power Station
Bichom and Tenga Rivers
Arunachal Pradesh
2020-21
7.
Ranganadi Hydro Power Station
Ranganadi River
Arunachal Pradesh
2002
8.
Subansiri Lower Hydroelectric Project
Subansiri
Arunachal Pradesh
Under Construction
9.
Dagmara Hydro-Electric Project
Kosi River
Bihar
Under Construction
10.
Hasdeo Bango Dam
Hasdeo River
Chhattisgarh
1961-62
11.
Sardar Sarovar Project
Narmada River
Gujarat
2017
12.
Bhakra Hydroelectric Project
Satluj
Himachal Pradesh
Bhakra Left Bank Power House – 1961Bhakra Right Bank Power House – 1968
12.
Pong Hydroelectric Project
Beas River
Himachal Pradesh
1978
13.
Dehar Hydroelectric Project
Beas River
Himachal Pradesh
1977
14.
Nathpa Jhakri Hydro Electric Project
Satluj River
Himachal Pradesh
2004
15.
Karcham Wangtoo Hydroelectric Plant
Sutluj River
Himachal Pradesh
2011
16.
Koldam Hydroelectric Plant
Satluj River
Himachal Pradesh
2015
17.
Baglihar Stage- I Hydroelectric Project
Chenab River
Jammu & Kashmir
2008
18.
Salal Hydro Electric Power plant
Chenab River
Jammu & Kashmir
1987
19.
URI-I Uri power station
Jhelum River
Jammu & Kashmir
1997
20.
The Pakal Dul Hydro Electric Project
Marusudar
Jammu & Kashmir
Under Construction
21.
Subarnarekha Hydel Power Project
Subarnarekha River
Jharkhand
1977
22.
Almatti Hydroelectric Project
Krishna River
Karnataka
2005
23.
Sharavathi Hydro Power Plant
Sharavathi River
Karnataka
1964
24.
Pallivasal Hydroelectric Project
Periyar River
Kerala
1940
25.
Idukki Hydro Electric Project
Periyar River
Kerala
1976
26.
Indira Sagar Hydroelectric Project
Narmada River
Madhya Pradesh
2004
27.
Bansagar Hydroelectric Project
Sone River
Madhya Pradesh
1991
28.
Koyna (Pophali) Hydroelectric Project
Kyona River
Maharashtra
1967
29.
Dikhu Hydro Electric Project
River Dikhu and River Yangnyu
Nagaland
Under Construction
30.
Hirakud Hydro Electric Project
Mahanadi
Odisha
1957
31.
Balimela Hydro Electric Project
Sileru River
Odisha
1975
32.
Anandpur Sahib Hydroelectric Project
Satluj River
Punjab
1985
33.
Ranjit Sagar Dam Hydroelectric Project
Ravi River
Punjab
2000
34.
Teesta-VI hydroelectric power project
Teesta River
Sikkim
Under Construction
35.
Kundah Hydroelectric Project
Bhavani river
Tamil Nadu
1960
36.
Kadamparai Hydroelectric Project
Kadampari River
Tamil Nadu
1987
37.
Srisailam Left Bank Hydroelectric Project
Krishna River
Telangana
2001
38.
Rihand Hydroelectric Project
Rihand River
Uttar Pradesh
1955
39.
Tehri Hydroelectric Project
Bhagirathi River
Uttarakhand
2006
40.
Kishau Dam Hydropower Project
Tons River
Uttarakhand
Under Construction
41.
Kotli Bhel Dam
Ganga
Uttarakhand
Under Construction
Hydroelectric Power Plant in India: Advantages and Disadvantages
| | |
| --- | --- |
| Advantages | Disadvantages |
| Hydropower plants use water to produce electricity, which is a renewable energy resource | Multiple hydroelectric projects in India are inactive due to legal conflicts over the regional turmoil, environment, economic pressure, and unconcerned consumers |
| The process involves zero long-term costs as water is a renewable energy resource without any consumable elements | Electricity production using hydropower needs a substantial money investment in capital |
| It is less expensive as compared to power produced by gas-fired and coal plants | They cause land submergence and result in the extinction of flora and fauna |
| It is more reliable and eradicates financial losses as it does not utilize fossil fuels | Diversion of forest land is periodically required since these projects are found in hilly regions, where forest cover is more |
| Hydropower stations are the best solution for fulfilling extreme loads in grids as they possess the ability to start and close immediately | Modern hydropower projects have experienced delays because of tricky planning strategies, long-term finance, lack of proper infrastructures, etc. |
Irrigation
In India irrigation has always been the largest user of water. Irrigation projects mainly consists engineering (or hydraulic) structures which collect, convey, and deliver water to areas on which crops are grown. 
Irrigation is a method of watering.
It depicts an agricultural process that applies a controlled amount of water to the crop field for better products as well as to the horticultural land, social forestry lands, lawns, and fields for animal grazing.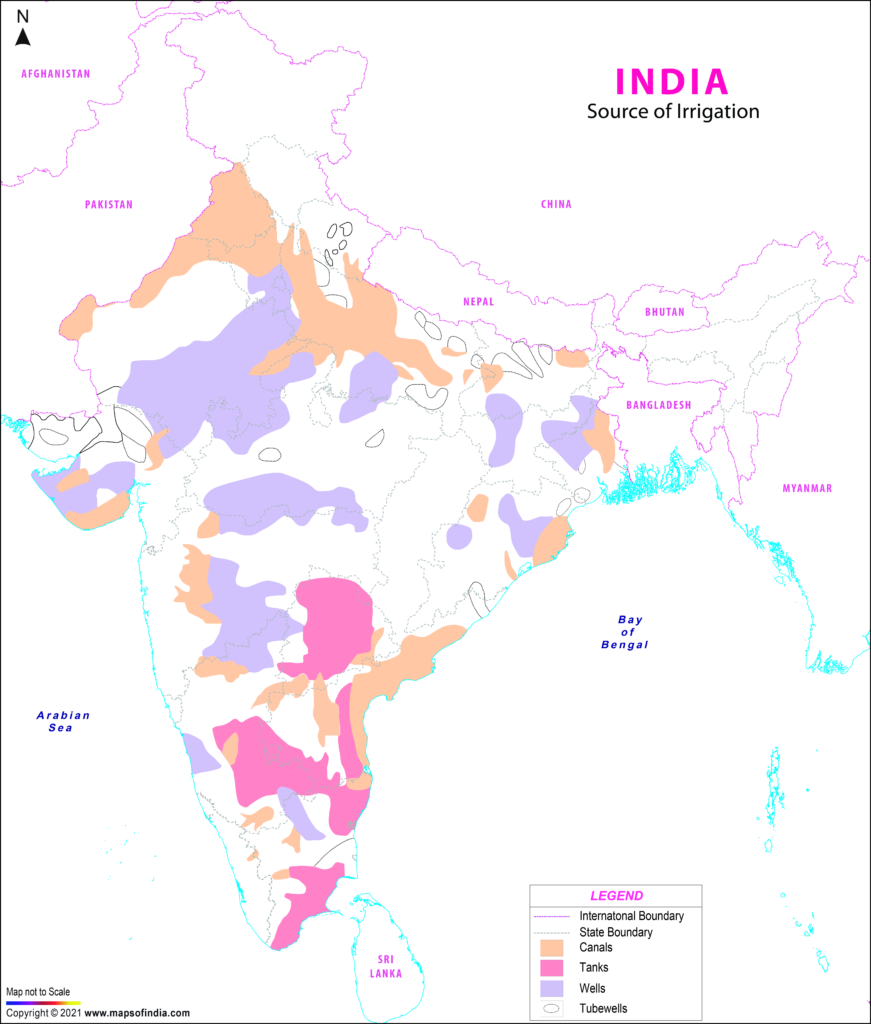 Irrigation Schemes in India
Major Irrigation Projects in India:
Bhakra Nangal: On the Sutlej River of Punjab and Himachal Pradesh this irrigation project was completed in the year 1963.
Beas Project: On the Beas river of Punjab, Haryana, and Rajasthan this project was completed in the year 1974.
Indira Gandhi Canal: On the Harike river of Punjab this was completed in 1965.
Kosi Project: On the Kosi River of Bihar and Nepal it was completed in 1954.
Hirakud Project: It is on the Mahanadi River of Orissa state .
Tungabhadra Project: This project was completed in the year 1953 on the Tungabhadra-Krishna River of Andhra Pradesh and Karnataka.
Nagarjuna Sagar Project: It has been completed in the year of 1960 on the Krishna River of Andhra Pradesh
Chambal Project: On the Chambal River of Rajasthan and Madhya Pradesh it has been completed in 1960
Damodar valley project: It has been completed in the year 1948 on the Damodar River of Jharkhand and West Bengal.
Gandak Project: In 1970 on the Gandak river of Bihar and Uttar Pradesh.
Kakrapara Project: It has been implemented on the Tapti River of Gujarat district in 1954.
Koyna project: This irrigation project has been implemented in the year 1964 on the Koyna-Krishna River of Maharashtra.
Malprabha Project: It has been implemented in the year of 1972 on the Malprabha river of Karnataka state.
Mayurakshi Project: This project has been implemented in the year of 1956 on the Mayurakshi river of West Bengal.
Kangasabati Project: It has been implemented in the year 1956 on the river Kangasabati of West Bengal.
Hydropower and Irrigation Projects,Hydropower and Irrigation Projects,Hydropower and Irrigation Projects
Read Also: Water Resource in India