The fishing Industry in India plays an important role in the Indian economy. It contributes to the national income, exports, food and nutritional security and in employment generation.
This sector is also a principal source of livelihood for a large section of the economically underprivileged population of the country, especially in the coastal areas. India has become the 3rd largest fish producer, and the 4th largest exporter of fish and fisheries products taking Brand India from 'Local to Global'.
Current status of Indian fisheries
Fisheries are the primary source of livelihood for several communities.
India is the world's second-largest fish producer with exports worth more than Rs 47,000 crore.
Fisheries are the country's single-largest agriculture export, with a growth rate of 6 to 10 per cent in the past five years.
Its significance is underscored by the fact that the growth rate of the farm sector in the same period is around 2.5 per cent.
It has a marine fisher population of 3.5 million; 10.5 million people are engaged in inland fishery and fish farming.
Potential of fishing industry in India
The investment of Rs 3,000 crore in the Blue Revolution is being supplemented through the Rs 7,523-crore Fisheries and Aquaculture Infrastructure Development Fund. This will meet the capital investment requirement of this sector.
The productivity of freshwater fish farms has gone up to more than 3 metric tonnes per hectare from the 2.5 tonnes per hectare.
Productivity of brackish water coastal aquaculture has touched 10 to 12 metric tonnes per hectare — a sharp increase from the previous two to four tonnes per hectare.
Thirty thousand hectares have been added to the area under fish farming.
The government has invested in hatcheries to meet the ever-increasing demand for good quality fish seed.
The expansion of aquaculture would increase this demand exponentially.
The introduction of cage culture in reservoirs and other open water bodies has led to an increase in output. Nearly 8,000 cages have been install and even though a cage gives a modest yield of three tonnes of fish, this translates into a more than 1,000 per cent increase in productivity.
This new practice gives freedom to fishermen from the risk of traversing dangerous rivers and restricted reservoirs.
Challenges faced
Sustainability: The Food and Agriculture Organisation's State of World Fisheries and Aquaculture reports note that nearly 90 per cent of the global marine fish stocks have either been fully-exploited or over-fished or depleted to an extent that recovery may not be biologically possible. While the near-shore coastal waters are highly overfishes, the high value fish stock proliferates in the deep seas.
Increasing demand: In order to meet the ever-increasing demand for animal protein, global fish production should touch 196 million tonnes by 2025 — it currently stands at 171 million tonnes. Taking into account the current depletion rate of marine fish stocks that seems next to impossible.
Productivity: the productivity in both sectors is low — in terms of per fisher, per boat and per farm. In Norway, a fisherman/farmer catches/produces 250 kg per day while the Indian average is four to five kg.
Insufficient Mechanization: Marine capture fishery comprises largely of small fishermen who operate traditional boats — either non-motorised vessels or boats with a basic outboard motor. These vessels cannot operate beyond near shore waters. High value species such as tuna cannot be catch by fishermen who use these vessels.
The lack of refrigeration facilities leads to spoilage of the huge catch. Use of formalin to keep the stock fresh has lead to ban on export of fish catch.
Bottom-trawling, improper demarcation of fishing boundaries has posed problems in form of killing, arresting of fishermen by neighbouring countries like SL, Pakistan etc.
Also Read: Great Himalayan National Park
Indian Government's Effort to Improve Fisheries
Establishment of the Fisheries and Aquaculture Infrastructure Development Fund (FIDF) in 2018-19.
Pradhan Mantri Matsya Sampada Yojana: The program's goal is to produce 22 million tonnes of fish by 2024-25. It is also expected to employ 55 lakh people.
Blue Revolution : It focuses on creating an enabling environment for integrated and holistic fisheries development and management for the socioeconomic development of fishers and fish farmers.
Kisan Credit Card (KCC) : It facilities are being extend to fishermen and fish farmers to assist them in meeting their working capital needs.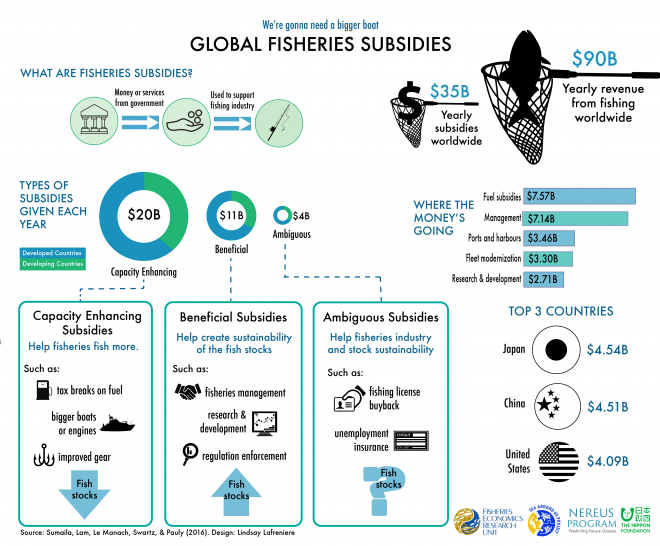 Blue Revolution
Blue Revolution, the Neel Kranti Mission, has the vision of achieving economic prosperity for the country and its fishers and fish farmers.
Also, contributing to food and nutritional security through full potential utilisation of water resources for fisheries development in a sustainable manner, while keeping bio-security and environmental concerns in mind.
The Blue Revolution scheme includes the following components:

The National Fisheries Development Board (NFDB) and its activities
Development of Inland Fisheries and Aquaculture
Development of marine fisheries, infrastructure, and post-harvest operations
Strengthening the Fisheries Sector's Database and Geographical Information System.
Institutional Arrangement for the Fisheries Sector
Monitoring, Control, and Surveillance (MCS) and other need-based interventions
Fishermen's National Welfare Scheme
Fishing Industry in India,Fishing Industry in India,
Also Read: Gene Pool