Deep-Sea mining
It is the process of retrieving mineral deposits from the deep seabed, the ocean below 200m which covers about two-thirds of the total seafloor.
Deep sea mining will be conducted to extract key battery materials such as cobalt, copper, nickel, and manganese from rocks called "polymetallic nodules".
Benefits – Deep-sea mining has metals crucial to making the transition to clean energy.
Threat – Research suggests that deep sea mining could destroy habitats and wipe out species.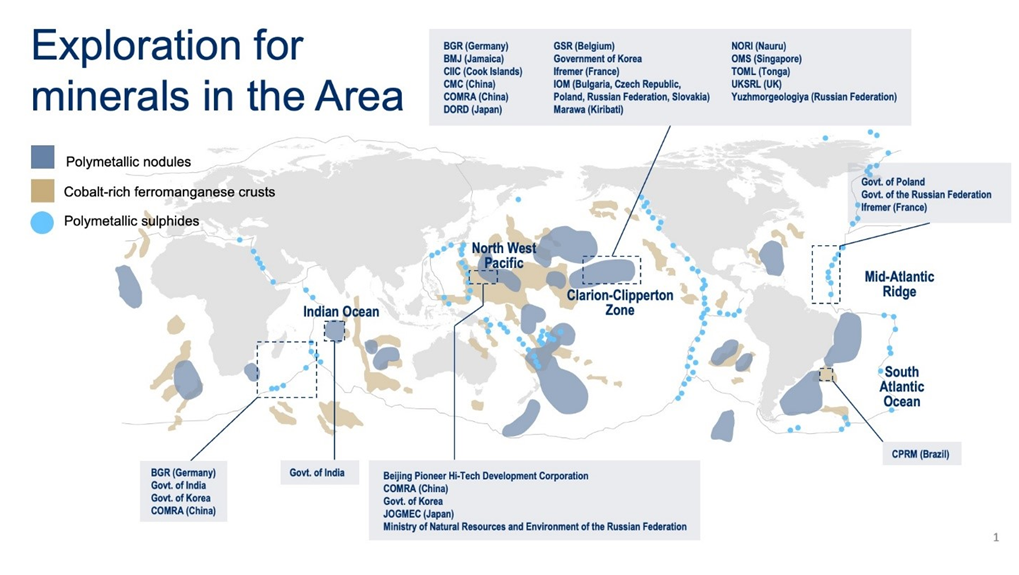 The International Seabed Authority (ISA) regulates activities in the seabed beyond national jurisdiction.
Seabed mining doesn't use child labor like much of the land mining does.
It has a life-cycle carbon footprint that is 90% less than land mining.
Deep Sea mining in India
The International Seabed Authority has allocated about 75,0000 square kilometres in the Central Indian Ocean Basin (CIOB) to conduct exploratory mining.
Union cabinet introduced 'Deep Ocean Mission' to be implemented by the Ministry of Earth Sciences.
India has also committed to the High Seas treaty that seeks to protect 30% of the world's ocean by 2030.
Mining on Land
Mining is the extraction (removal) of minerals and metals from earth.
Examples – Manganese, tantalum, cassiterite, copper, tin, nickel, bauxite (aluminum ore), iron ore, gold, silver, and diamonds.
Mining on land can be broadly classified into 2 types – Surface mining and underground mining
Surface Mining – In surface mining, workers blast the ground to remove ores near Earth's surface and carry them to refineries for extracting the minerals.
Surface mining can be destructive to the surrounding landscape, leaving huge open pits behind.
Underground Mining – In underground mining, workers remove ores from deep within the earth.
Mining in India
The Mining industry in India is one of the core industries of the economy governed by Ministry of Mines.
India has large reserves of Iron ore, Bauxite, Chromium, Manganese ore, Baryte, Rare earth and Mineral salts.
India is 2nd largest crude steel producer in the World.
International Seabed Authority
Establishment – An autonomous international organization established in 1994 under

1982 United Nations Convention on the Law of the Sea (UNCLOS).
1994 Agreement relating to the Implementation of Part XI of the United Nations Convention on the Law of the Sea (1994 Agreement).

Headquarters -Kingston, Jamaica
Members -168 Members which includes 167 Member States and the European Union
Exclusive Economic Zones – ISA holds authority over the ocean floors outside of its 168 member states' Exclusive Economic Zones.
Protects marine environment -ISA has the mandate to ensure the effective protection of the marine environment from harmful effects that may arise from deep-seabed-related activities.
United Nations Convention on the Law of the Sea (UNCLOS) – ISA is the organization through which States Parties to UNCLOS organize and control all mineral-resources-related activities in the area for the benefit of humankind.
Read also:- Double Asteroid Redirection Test (DART)
Deep Sea mining Vs Mining on Land, Deep Sea mining Vs Mining on Land