Background: Arrival of Portuguese in India- The Portuguese were the first Europeans to establish a colony in India at the very beginning of the 16th century and were the last to leave in 1961 from its enclaves in Goa, Daman and Diu. Though they handed over the reins of India to other European powers the impact of their arrival and presence in India changed India in many ways. This essay attempts to understand how the arrival of the Portuguese changed India and ushered in a new era.
Arrival of Portuguese in India
Why a sea route to India?
Roman Empire declined in the seventh century
Arabs rose to power in Egypt and Persia
This led to the declination of the direct contact between Europe and India (Arabs had become middlemen)
In 1453, Constantinople fell to the Ottoman Turks, who were on the ascendant
Therefore, land and sea routes were under the control of the Arabs
Renaissance gripped Europe in the fifteenth century, leading its call for exploration.
Simultaneously, they were advancements in the field of ship building, crop rotation, and ploughing and meat industry. This led to the need for voyages and the requirements of spices respectively.
Prince Henry of Portugal (nicknamed, Navigator), Portuguese Royal who supported sea route exploration.
Arrival in India
Portuguese explorer Vasco da Gama sailed around the Cape of Good Hope and reached India on 27 May 1498. This maiden voyage and discovery of a direct sea route to India completely changed the course of history not only of India but the entire world in many ways.
It was not that Vasco da Gama was the first European to visit India but he was the first one who followed a radically different direct sea route to India, which went around the Cape of Good Hope.
Earlier in 1487 another Portuguese explorer Pêro da Covilhã came on a mission to Kerala which was via the ancient Red Sea route in an Arab dhow and spent a few months in Cannanore (now Kannur) and Calicut (now Kozhikode).
Bartolomeo Dias was the first European navigator to go around the Cape of Good Hope in 1488, thereby effectively establishing the possibility of a direct sea route between Europe and Asia.
[Note: In 1487, Bartholomeo Dias rounded the Cape of Good Hope in Africa and sailed up the eastern coast. He was well convinced that he had reached India. But only ten years later had the sea route to India been discovered, when another Portuguese expedition arrived in May 1498.]
1498- Vasco da Gama reached Calicut in Kerala. He was helped by a Gujarati pilot, Abdul Majid. Here, he was welcomed by Zamorins (Hindu rulers). After engaging in the much profitable trade for three months, he returned to Europe.
1500- Pedro Alvarez Cabral arrived in Calicut and established a factory to trade for spices.
1501- Vasco Da Gama once again came to India. Got into friendly treaties with Zamorins, and established trading posts at Cannanore, Calicut and Cochin in Kerala.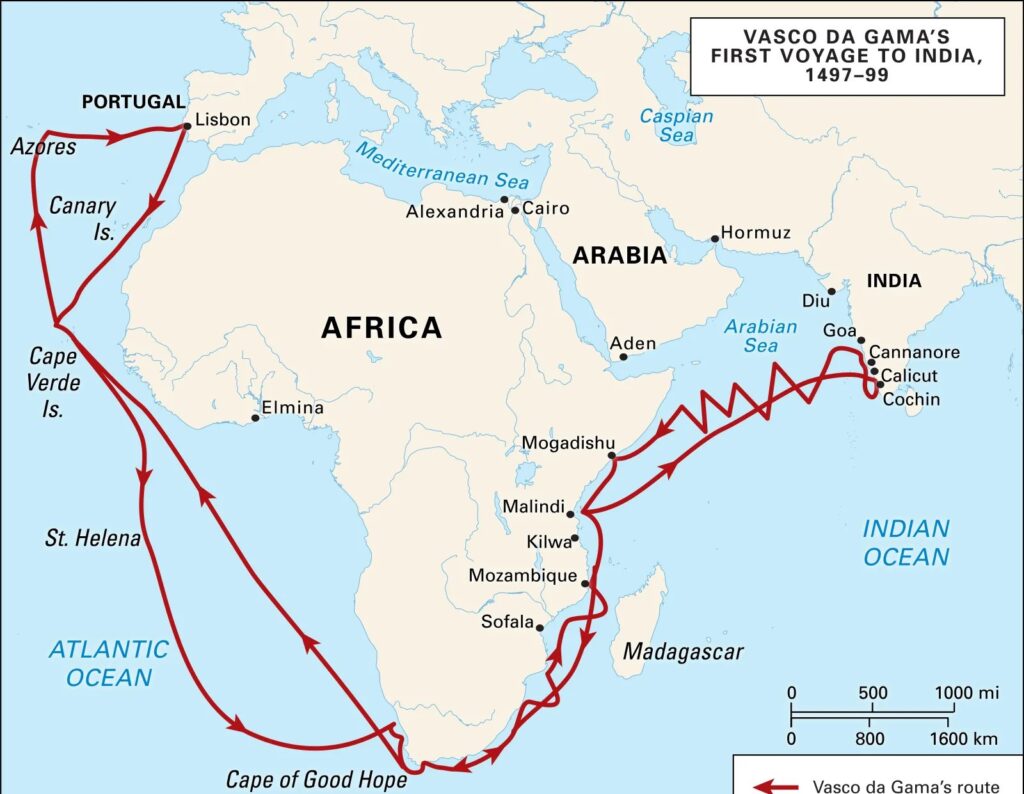 Expansion of the Portuguese Rule
Under the pretext of protection of trade, the Portuguese got permission to fortify their centres. Gradually, efficient Governor Generals were being sent to India to expand the trade. A few have been mentioned below:
1505 – Francisco de Almeida
Consolidated Portuguese trade and subdued Muslim trade
Encountered the opposition of the Zamorin along with the Mamluk Sultan of Egypt. Initially, defeated at their hands.
Avenged the defeat by totally crushing both navies next year,
Wanted to make Portuguese the masters of Indian Ocean.
His policy was known as Blue Water Policy (cartaze system).
1509 – Alfonso De Albuquerque
Introduced a permit system for ships to enter the Indian Ocean
Acquired Goa from Sultan of Bijapur inn1510
Abolition of sati
Encouraged Portuguese men to take Indian wives and settle in India (to increase the demography as well)
Introduced tobacco, cashew and irrigation system
1529 – Nino Da Cunha
Shifted the headquarters from Cochin to Goa inn1530
Helped Guajarati's to fight the Mughals. Got Bassein and Diu as reward
Expanded to East in Bengal with Hooghly as headquarters
Favourable Conditions for Portuguese
Excellent ships, navy with cannons (much better compared to other small kingdoms)
Egypt and Middle East lacked timber and could not build ships
No other super powers, Chinese had restricted themselves from entering India
Knowledge of sea, maps, tradesmen and governors
Over the years, Portuguese state expanded to almost all coasts of India- Mangalore, Cannanore, Calicut, Cochin, San Thome in Chennai, Nagapattnam in Andhra Pradesh and Hooghly in West Bengal.
Relation with the Mughals – Initial challenges were present but the Mughals were impressed by the Portuguese navy. They wanted to convert the Mughals to Christianity. Despite failing in doing so, they got permission to build churches and roads.
Meanwhile, the English discovered sea route to India
1608 – William Hawkins came to Jahangir's court
Despite retaliation from Portuguese, they started trade; however, upon negotiation with the Mughals, the Portuguese successfully stopped the English ships.
1612- English ships finally enter.
During the reign of Shahjahan, Portuguese lose their entire rule.
Reasons for decline
Emergence of powerful kingdoms in Egypt, North India and Marathas
Entry of English, loss in trade
Religious policies and spiritual pressure gained them enemies
Rampant corruption
Discovery of Brazil in the West diverted their attention
Dutch overpowered them in spice trade
Significance of Portuguese Rule
Opened up new era of global trade
Introduced modern techniques of warfare and navy
Built churches and roads