India is a unique country from agricultural point of view. Its expanse of plains, rich soil, high percentage of cultivable land, wide climatic variety with adequate aggregate rainfall combined with sufficient temperature, ample sunshine and long growing season, provide solid base to agriculture.
Features of Indian Agriculture
Subsistence Agriculture: Subsistence agriculture, which has been practised in India for several hundreds of years, still prevails in most parts of the country.
The pressure of population on Agriculture: Despite the increase in urbanization and industrialization, about 70% of the population is still directly or indirectly dependent on agriculture.
Mechanization in agriculture: Even after more than forty years of the Green Revolution and revolution in agricultural machinery and equipment, we have not achieved complete mechanization.
Monsoon dependency: Despite the large-scale expansion, only about one-third of the total cropped area is irrigated today. As a consequence, two-thirds of cropped areas are still dependent upon the monsoon.
Variety of crops: Since India has both tropical and temperate climates, crops of both climates are found in India. There are very few countries in the world that have variety comparable to that of India. You would realize that when we would discuss the different types of crops in detail.
The predominance of food crops: The production of food crops is the priority of the farmers almost everywhere in the country.
Seasonal patterns: India has three distinct agricultural/cropping seasons- Kharif, rabi, and Zaid.
In India, specific crops are grown in these three seasons. For example, farmers cultivate rice as a Kharif crop and wheat as a rabi crop.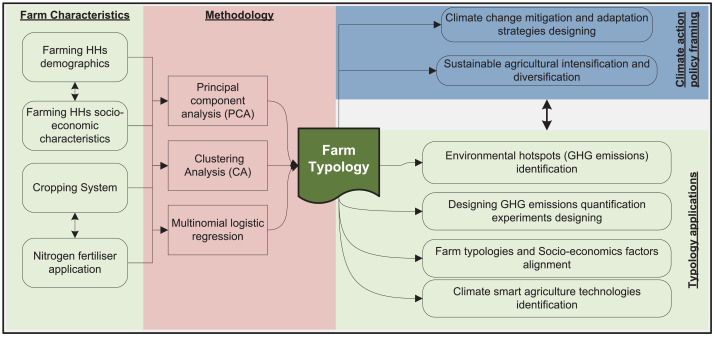 Problems of Indian Agriculture
While a few problems are natural, others are artificial. Some of the major problems and their possible solutions are as follows:
Small and Fragmented Land-holdings

The arable plot size is decreasing with each successive generation, mainly due to inheritance laws

After 75 years of independence, each person in a rural household is left with 0.2 hectares of land.
Since the first agriculture census 45 years ago, the number of farms has doubled from 70 million in 1970 to 145 million in 2015 and counting
Greater number of people in an ever-shrinking land holding, leading to increased population pressure, and rampant underemployment.

Use of Fertilisers

With the spread of the Green Revolution, fertilizer use in India increased, and balanced fertilizer use requires the application of three major plant nutrients, namely nitrogen, phosphorous, and potassium, in a ratio of 4:2:1. Any deviation from this norm in fertilizer use would restrict the growth of crop productivity.
However in 2012–13, the ratio of NPK use in India reached 8.2:3.2:1, which is more imbalanced compared to the early 1970s when the ratio was 6:1.9:1.
The prime reason for such nutrient imbalance in the countryis heavy subsidies on Urea.

Irrigation

Despite being the second largest irrigated country in the world after China, India has only one-third of its total cropped area under irrigation.
The expansion and improvement of irrigation facilities occupy a central place in India's strategy for raising agricultural productivity.
Water resources are also limited and water for irrigation must contend with increasing industrial and urban needs.
Also, there is pressure on water resources due to Climate Change and Monsoon vagaries.

Lack of Mechanisation

Except the rich farmers having large land holdings, most of agricultural operations in India are carried on by humans using conventional tools.

This is the case specially with small and marginal farmers; which has been the reason for low yield per capita labour force.

Agricultural Marketing

This continues to be in Bad shape in India.
Farmers rely on local traders and middlemen for the disposal of their farm produce in the absence of marketing facilities, often being forced to sell at distress level prices.

Lack of information to farmers, Debt obligation, multiplicity of charges are other related issues.

Inadequate storage and transportation facilities

This issues doesn't ensure timely delivery of farmers' produce to the market.
Agriculture Typology,Agriculture Typology,Agriculture Typology
Read Also: Indian Agriculture Scenario