The Himalayan Subtropical Pine Forests ecoregion is dominated by a single pine species, Chir pine, and is the largest subtropical pine forest ecosystem in the Indo-Pacific region. The ecoregion stretches for over 3,000 km along the lower elevations of the Himalayan mountain range, from Pakistan to Bhutan, cutting through several Himalayan states of India and Nepal. 
Climatic Conditions
The southwestern monsoon, which arrives from the Bay of Bengal and lasts from May to September, is responsible for the majority of the rainfall in the subtropical pine forests.
Since the monsoon winds are received first in the eastern Himalayas, which are closer to the Bay of Bengal, rainfall is heavier and earlier in the season.
The west receives less rainfall than the east, forming a climate gradient.
The ecoregion is significantly more remarkable in the west because subtropical pine forests are better adapted to drier environmental conditions.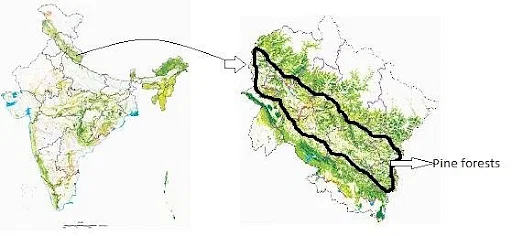 Distribution
Western Himalayas between 73°E and 88°E longitudes at elevations between 1000 to 2000 metres above sea level.
Some hilly regions of Arunachal Pradesh, Manipur, Naga Hills and Khasi Hills.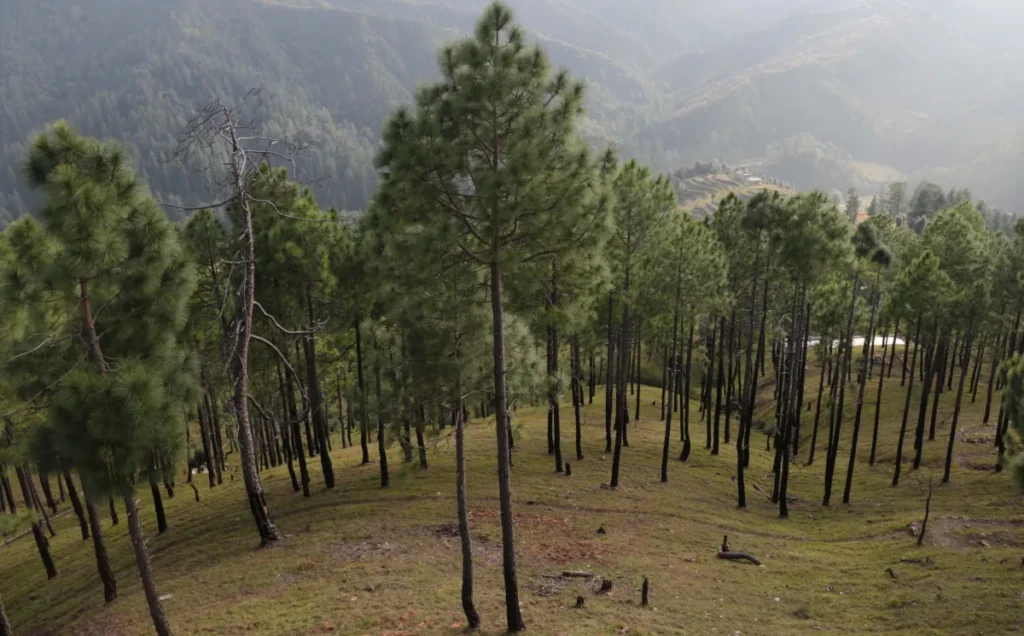 Timber
Chir or Chil is the most dominant tree which forms pure stands.
It provides valuable timber for furniture, boxes and buildings.
It is also used for producing resin and turpentine.
Economical Importance
For their livelihood, the people of the region rely heavily on a variety of ecosystem goods and services (ES) provided by these forest ecosystems.
People use wild plant species as food/edible sources to meet their protein, carbohydrate, fat, vitamin, and mineral requirements.
They are also employed for maintaining life as fuelwood, feed, fiber, resin, gums, and medicinal herbs.
Subtropical pine forests also provide enormous economic benefits to the country by generating employment and income to rural residents.
Furthermore, they act as a massive CO2 sink in the atmosphere, helping to mitigate climate change.
Also Read : Subtropical Broad-Leaved Forests