Context: Finance Minister launches an Online Dashboard for the National Infrastructure Pipeline. In the budget speech of 2019-2020, Finance Minister announced an outlay of Rs 100 lakh Crore for infrastructure projects over the next 5 years.
Key points:
The online dashboard is possibly as a one stop solution for all stakeholders looking for information on infrastructure projects in New India.
The dashboard is being hosted on the India Investment Grid (IIG).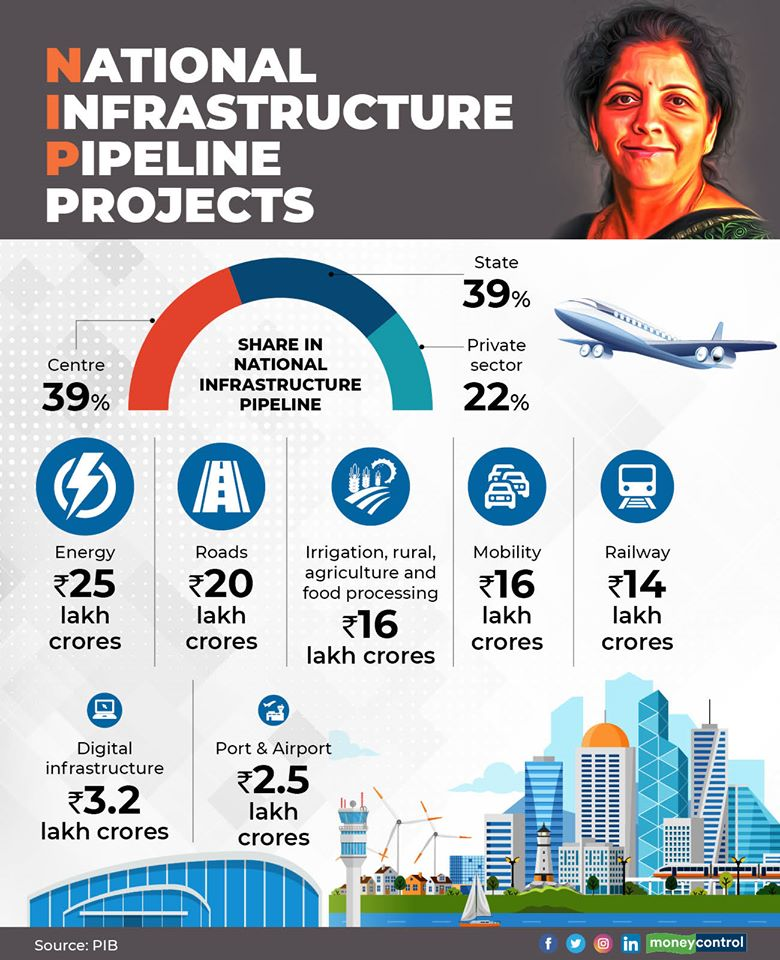 What is National Infrastructure Pipeline (NIP)?
NIP is a first-of-its-kind initiative to provide world-class infrastructure across the country and improve the quality of life for all citizens.
It will improve project preparation, attract investments (both domestic & foreign) into infrastructure, and will be crucial for attaining the target of becoming a $5 trillion economy by FY 2025.
Covers both economic and social infrastructure projects.
What are the Objectives of NIP?
It will promote business growth, generate jobs, enhance quality of life, ensure equitable infrastructure access, and foster societal inclusivity.
It will help increase economic activity and create additional Fiscal space by improving the revenue base of the government.
It will result in planned project development, better project bidding preparation, reduced aggressive bids/failures, and increased access to finance through enhanced investor confidence.
Significance of NIP:
Economic growth: It is probable that India will require $4.5 trillion in infrastructure spending by 2030 to maintain its current growth pace. The National Infrastructure Pipeline (NIP) is working to make this happen as quickly as possible.
Employment: A well-planned NIP will enable increased infrastructure projects, business development, job creation, improved living conditions, and equitable infrastructure access, fostering inclusive growth.
Fiscal space: Well-developed infrastructure boosts economic activity, frees up fiscal space by increasing the government's tax base, and guarantees that government spending is concentrated on productive areas.
Better Projects: National Infrastructure Pipeline will ensure that infrastructure projects are properly planned and implemented. It will provide a clearer picture of project supply, more time to prepare for project bidding, less aggressive bids/project failures, and improved access to capital sources as a result of higher investor trust.
Benefits to agriculture: It will improve agricultural and rural infrastructure. Irrigation and rural infrastructure projects will cost a total of 7.7 lakh crore.
Connection: It would improve India's connectivity, particularly in rural areas. Road construction will cost Rs. 19.63 lakh crore, while railway developments will cost Rs. 13.68 lakh crore.
Credit: Due to the ongoing NPA issue and a lack of credit creation in the economy, there is a dearth of private investment. As a result, the government must invest from its own funds to give the economy a boost.
What are the Challenges in front of NIPs?
Land acquisition is the biggest problem because convincing millions of people is not an easy task.
If banks are raising money for NIPs, they need to face crises while raising NIP funds.
Developing pipelines on a massive scale is not an easy job. To coordinate with all types of government in India so that no one can interfere between them and their work.
High inflation rates in the country hinder growth and pose challenges for the government and the people.
Conclusion:-
The National Infrastructure Pipeline is an important strategy introduce by the central government of India. It has a 102 lakh crore rupees investment strategy to attract foreign and private investment, boosting the Indian economy. The goals have been discuss to strengthen the country's economic condition. It also has the motive of providing all types of services to the urban areas to live a stress-free life. More than one lakh crore is to be invest in a fracture in the coming five years by the government.
ALso Read: Make in India