ECONOMIC SURVEY 2022-23:
India is expecting to witness GDP growth of 6.0 per cent to 6.8 per cent in 2023-24, depending on the trajectory of economic and political developments globally.
Economic survey 2022-23 projects a baseline GDP growth of 6.5 per cent in real terms in FY24.
Economy is expected to grow at 7 per cent (in real terms) for the year ending March 2023; this follows an 8.7 per cent growth in the previous financial year.
Credit growth to the Micro, Small, and Medium Enterprises (MSME) sector has been remarkably high, over 30.5 per cent, on average during Jan-Nov 2022.
Capital expenditure (capex) of the central government, which increased by 63.4 per cent in the first eight months of FY23, was another growth driver of the Indian economy in the current year.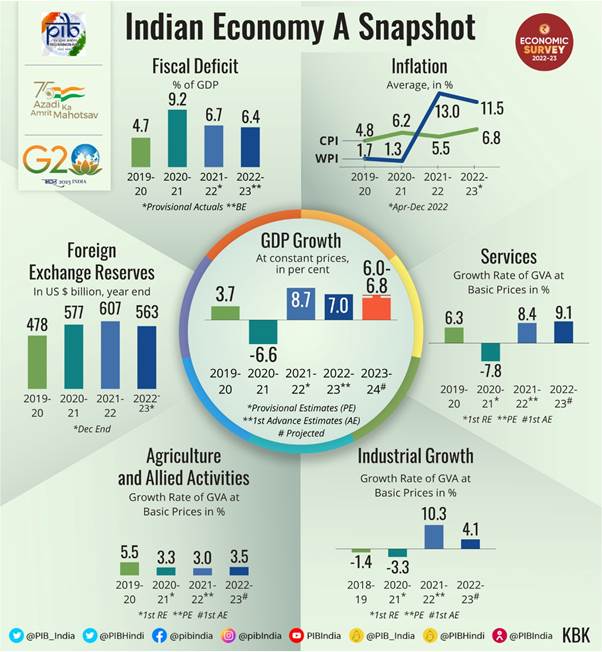 RBI projects headline inflation at 6.8 per cent in FY23, which is outside its target range.
Return of migrant workers to construction activities helped housing market witnessing a significant decline in inventory overhang to 33 months in Q3 of FY23 from 42 months last year.
Surge in growth of exports in FY22 and the first half of FY23 induced a shift in the gears of the production processes from mild acceleration to cruise mode.
Private consumption as a percentage of GDP stood at 58.4 per cent in Q2 of FY23, the highest among the second quarters of all the years since 2013-14, supported by a rebound in contact-intensive services such as trade, hotel and transport.
Survey points to the lower forecast for growth in global trade by the World Trade Organisation, from 3.5 per cent in 2022 to 1.0 per cent in 2023.
Enhanced govt. expenditure for Better Quality of Life.
Over 14,500 PM SHRI School to be Built between FY 23 to FY 27
Rise in Numbers of IITs, IIMs, IIITs
Urban Employment nearing Pre-Pandemic level
EPFO based net payroll on the rise: 105.4 lakh in FY 23(till Nov.)
The projection is broadly comparable to the estimates provided by multilateral agencies such as the World Bank, the IMF, and the ADB and by RBI, domestically.
Source: PIB
ALSO READ: Budget Highlights 2023-24