Cyclone "Biparjoy" intensifies in the Arabian Sea, posing significant risks and uncertainties for the affected regions.
The India Meteorological Department (IMD) reports the storm's rapid development, expecting it to strengthen into a severe cyclonic storm with winds reaching 115-125 kmph and gusts of 140 kmph on June 8, 2023.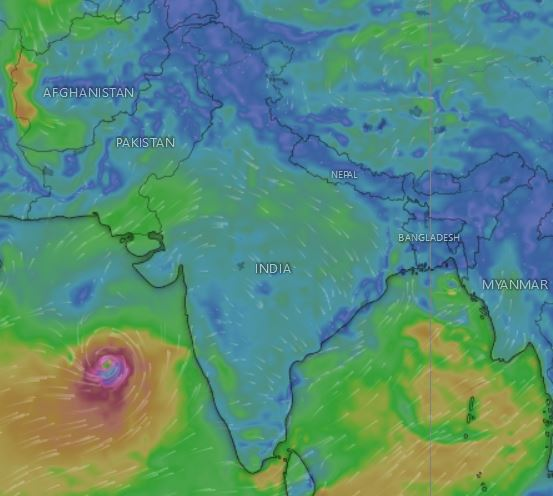 About Cyclone "Biparjoy":
A cyclone is a low-pressure system that forms over warm waters. Usually, a high temperature anywhere means the existence of low-pressure air, and a low temperature means high-pressure wind.
How it was named?
'Biparjoy' by Bangladesh and the word means 'disaster' or 'calamity' in Bengali.
How are cyclones named?
Countries follow certain existing guidelines to name cyclones on a rotational basis.
Worldwide, there are six regional specialised meteorological centres (RSMCs) and five regional Tropical Cyclone Warning Centres (TCWCs) mandated for issuing advisories and naming of tropical cyclones.
IMD is one of the six RSMCs to provide tropical cyclone and storm surge advisories to 13 member countries under the WMO/Economic and Social Commission for Asia-Pacific (ESCAP) Panel including Bangladesh, India, Iran, Maldives, Myanmar, Oman, Pakistan, Qatar, Saudi Arabia, Sri Lanka, Thailand, United Arab Emirates and Yemen.
Cyclones in the Arabian Sea: A quick recap
Frequency of Cyclones: It is not rare for cyclones to develop in the Arabian Sea. While less frequent than in the Bay of Bengal, cyclones in this region are not uncommon.
Favorable Months: June is one of the favorable months for the formation of cyclones in the Arabian Sea.
Factors Influencing Cyclone Formation: Cyclones form due to low-pressure systems over warm waters. The Bay of Bengal is slightly warmer, but the Arabian Sea is also getting warmer due to climate change, leading to an increase in cyclones.
Coriolis Effect and Weather Systems: In a depression or low-pressure situation, the air blows in an anticlockwise direction in the northern hemisphere, influenced by the Coriolis Effect.
Read Also : Cauvery River