Different variants of Warm Temperate Eastern Margin Climate include the:
Temperate monsoon Climate or China Type Climate,
Gulf Type Climate and
Natal Type Climate.
Found between 20° and 35° N and S latitude (warm temperate latitudes just outside the tropics); on the east coast in both hemispheres.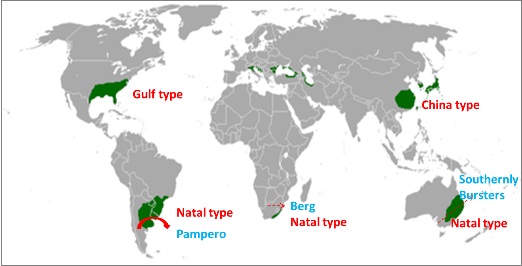 China Type Climate
Temperate Monsoon or China Type climate is observed in most parts of China. The climate is also observed in southern parts of Japan.
Summer
Intense heating within interiors (Tibet, desert region) sets up a region of low pressure in summer attracting tropical Pacific air stream (South-East
Monsoon).
Monsoon does not 'burst' as suddenly, nor 'pour' as heavily as in India.
Typhoons form mostly in late summer, from July to September.
Winter
There is little rain but considerable snow on the windward slopes.
Another climatic feature associated with the China type of climate in Southern China is the occurrence of typhoons.
Natural Vegetation Supports a luxuriant vegetation.
The lowlands carry both evergreen broad-leaved forests and deciduous trees [hardwood].
On the highlands, are various species of conifers such as pines and cypresses which are important softwoods.
Gulf Type Climate
Found in south-eastern U.S.A., bordering the Gulf of Mexico where continental heating in summer induces an inflow of air from the cooler
Atlantic Ocean
Natal Type Climate
Found in in New South Wales (Australia), Natal (South Africa), Parana- Paraguay-Uruguay basin (South America).
Natal type is different from temperate monsoon or China type as it receives rainfall from on-shore Trade Winds all the year round.
Precipitation
Rainfall is more than moderate, anything from 60 cm to 150 cm.
This is adequate for all agricultural purposes and hence supports a wide range of crops.
Areas which experience this climate are very densely populated.
There is the fairly uniform distribution of rainfall throughout the year.
Rain comes either from convectional sources or as orographic rain in summer, or from depressions in prolonged showers in winter.
Local storms, e.g. typhoons (tropical cyclones) and hurricanes, also occur.
Warm Temperate Eastern Margin Climate
Also read : Arctic Tundra Climate