The Marine Erosional Landforms forms through sea waves, aided by currents, tides and storms in coastal areas. The erosive work of the sea depends upon (i) size and strength of waves, (ii) seaward slope, (iii) height of the shore between low and high tides, (iv) composition of rocks (v) depth of water, etc.
The wave exerts a pressure to the magnitude of 3000 to 30,000 kilograms per square kilometre. This wave pressure compresses the air trapped inside rock fissures, joints, faults, etc. forcing it to expand and rupture the rocks along weak points.
Wave-Cut Platform
When the sea waves strike against a cliff, the cliff gets eroded (lateral erosion) gradually and retreats.
The waves level out the shore region to carve out a horizontal plane or a wave-cut platform.
The bottom of the cliff suffers the maximum intensive erosion by waves and, as a result, a notch appears at this position.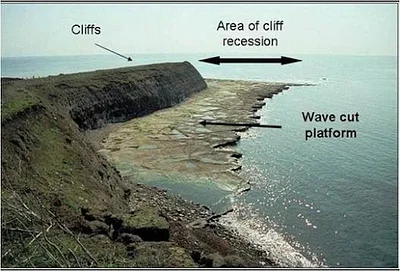 Sea Cliff
Shoreline marked by a steep bank (escarpment, scarp).
Sea Caves
Differential erosion by sea waves through a rock with varying resistance across its structure produces arched caves in rocks called sea caves.
Sea Arches
When waves from opposite directions strike a narrow wall of rock, differential erosion of the rock leaves a bridge like structure called Sea arch.
Stacks/Skarries/Chimney Rock
When a portion of the sea arch collapses, the remaining column-like structure
Beach
This is the temporary covering of rock debris on or along a wave-cut platform.
Bar
Currents and tidal currents deposit rock debris and sand along the coast at a distance from the shoreline.
The resultant landforms which remain submerged are called bars.
The enclosed water body so created is called a
Barrier
It is the overwater counterpart of a bar.
Spit and Hook
A spit is a projected deposition joined at one end to the headland, with the other end free in the sea.
The mode of formation is similar to a bar or barrier.
A shorter spit with one end curved towards the land is called a Spit and Hook.
Tombolos
Sometimes, islands are connected to each other by a bar called tombolo. is called a stack, skarry or chimney rock.
Marine Erosional Landforms,Marine Erosional Landforms
Read more : Fluvial Depositional Landforms