Write a short note on the Department of Science and Industrial Research.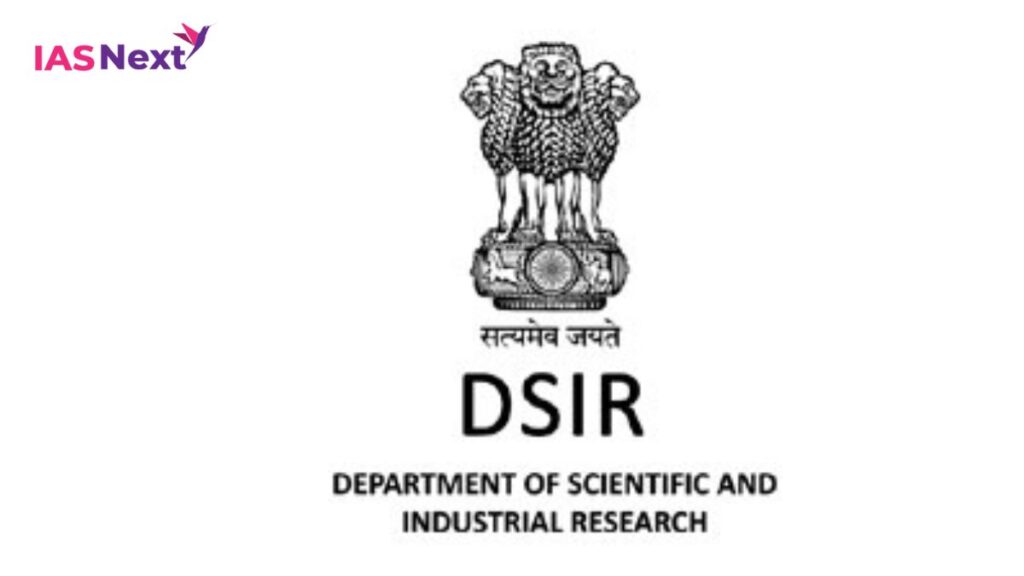 of Technology with the mandate for indigenous technology promotion, development, and utilization. The primary DSIR is to encourage The Department of Scientific and Industrial Research (DSIR) is a part of the Ministry of Science and endeavour industry to increase the development of consulting profession; certification of specialized consultants/facilities; etc.
Science and technology department functioning under the auspices of the Central Government.
Department of Science and Technology
Department of Scientific and Industrial Research
Department of Atomic Energy
Department of Space
Department of Biotechnology
Department of Ocean Development
under Research Laboratories CSIR
LIST OF CSIR LABS
CSIR-Advanced Materials and Processes Research Institute (CSIR-AMPRI), Bhopal
CSIR Centre for Mathematical Modelling and Computer Simulation CSIR-C-MMACS), Bangalore
CSIR-Central Building Research Institute (CSIR-CBRI), Roorkee
CSIR-Centre for Cellular Molecular Biology (CSIR-CCMB), Hyderabad
CSIR-Central Drug Research Institute (CSIR-CDRI), Lucknow
CSIR-Central Electro Chemical Research Institute (CSIR-CECRI), Karaikudi
CSIR-Central Electronics Engineering Research Institute (CSIR-CEERI), Pilani
CSIR-Central Food Technological Research Institute (CSIR-CFTRI), Mysore
CSIR-Central Glass Ceramic Research Institute (CSIR-CGCRI), Kolkata
CSIR-Central Institute of Medicinal Aromatic Plants (CSIR-CIMAP), Lucknow
CSIR-Central Institute of Mining and Fuel Research (CSIR-CIMFR) Dhanbad
CSIR-Central Leather Research Institute (CSIR-CLRI), Chennai
CSIR-Central Mechanical Engineering Research Institute (CSIR-CMERI), Durgapur
CSIR-Central Road Research Institute (CSIR-CRRI), New Delhi
CSIR-Central Scientific Instruments Organisation (CSIR-CSIO), Chandigarh
CSIR-Central Salt Marine Chemicals Research Institute (CSIR-CSMCRI), Bhavnagar
CSIR Fourth Paradigm Institute (CSIR-4PI), Bangalore
CSIR-Institute of Genomics and Integrative Biology (CSIR-IGIB), Delhi
CSIR-Institute of Himalayan Bioresource Technology (CSIR-IHBT), Palampur
CSIR-Indian Institute of Chemical Biology (CSIR-IICB), Kolkata
CSIR-Indian Institute of Chemical Technology (CSIR-IICT), Hyderabad
CSIR-Indian Institute of Integrative Medicine (CSIR-IIIM), Jammu
CSIR-Indian Institute of Petroleum (CSIR-IIP), Dehradun
CSIR-Indian Institute of Toxicology Research (CSIR-IITR), Lucknow
CSIR-Institute of Minerals and Materials Technology (CSIR-IMMT), Bhubaneswar
CSIR-Institute of Microbial Technology (CSIR-IMT), Chandigarh
CSIR-National Aerospace Laboratories (CSIR-NAL), Bengaluru
CSIR-National Botanical Research Institute (CSIR-NBRI), Lucknow
CSIR-National Chemical Laboratory (CSIR-NCL), Pune
CSIR-National Environmental Engineering Research Institute (CSIR-NEERI), Nagpur
CSIR-North – East Institute of Science and Technology (CSIR-NEIST), Jorhat
CSIR-National Geophysical Research Institute (CSIR-NGRI), Hyderabad
CSIR-National Institute For Interdisciplinary Science and Technology (CSIRNIIST), Thiruvananthapuram
CSIR-National Institute of Oceanography (CSIR-NIO), Goa
CSIR-National Institute of Science Communication And Information Resources (CSIR-NISCAIR), New Delhi
CSIR-National Institute of Science, Technology And Development Studies (CSIR-NISTADS), New Delhi
CSIR-National Metallurgical Laboratory (CSIR-NML), Jamshedpur
CSIR-National Physical Laboratory (CSIR-NPL), New Delhi
CSIR-Structural Engineering Research Centre (CSIR-SERC), Chennai
CSIR-UNIT: Open Source Drug Discovery (CSIR-OSDD), New Delhi
CSIR-UNIT: Traditional Knowledge Digital Library (CSIR-TKDL), New Delhi
CSIR-UNIT: Translational Research and Innovative Science Through Ayurveda (CSIRTRISUTRA), New Delhi
CSIR-UNIT: Human Resource Development Centre (CSIR-HRDC), Ghaziabad
CSIR-UNIT: Unit for Research and Development of Information Products (CSIR-URDIP), Pune
CSIR Madras Complex (CSIR-CMC),Chennai