This Peninsular plateau has undergone recurrent phases of upliftment and submergence accompanied by crustal faulting and fractures. (The Bhima fault needs special mention, because of its recurrent seismic activities). These spatial variations have brought in elements of diversity in the relief of the Peninsular plateau. The northwestern part of the plateau has a complex relief of ravines and gorges.
Shillong Plateau
– A part of Peninsular Deccan Plateau, made of Garo, Khasi & Jaintia Hills & home ground of Shillong city
– World's highest rainfall receiving point Mawsynram is situated here
Chhotanagpur Plateau
– Covers NE part of Peninsular plateau including Jharkhand, parts of Chhattisgarh & WB, with highest Peak Parasnath
– Famous as Patland plateau & known as ruhr of India due to large mineral deposits
Malwa Plateau
– Located on north of Narmada rift valley & part of central Highland made up of granite & gneiss
– A dissected lava plateau covered with black soil, famous for production of cotton
– Northern part of this plateau has been transformed into Badland by river chambal & it's tributeries
Deccan Plateau
– Lies to the south of Tapi river, Deccan plateau is majorly a lava region made up of basalt, whose erosion – has led to the formation of black soil
– Largest plateau of Indian peninsula, famous for the cultivation of cotton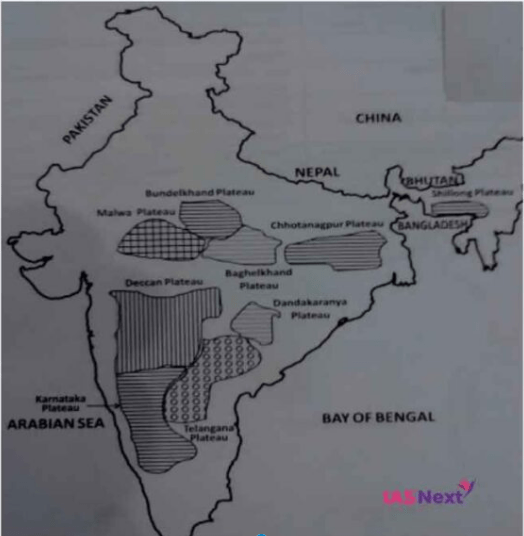 Telangana Plateau
– A part of deccan plateau, located on north of river krishna
– Lies in the rain shadow region of south west monsoon, have mainly dry thorn forests
Karnataka Plateau
– Located on the south of deccan lava region, Built of Malnad region in west (Western Ghats) & Raichur Maidan in east.
– Bababudan hills (Famous for iron ores) are located in this plateau
Bundelkhand Plateau
– Spreads along the borders of UP & MP
– Has been transformed into ravines by extensive erosional activities of river Chambal & its tributeries
Dandakaranya Plateau
– Spreading in parts of Chhatisgarh & Odisha, contains igneous & metamorphic rocks of Archaen period
– River Indravati & Mahandi flows through this plateau & is largely inhabited by Gond tribes
About the Peninsular Plateau
The Peninsular Plateau in India formed due to Gondwanaland's tectonic shifts, resulting in a triangular plateau. It covers eight states, spanning 16 lakh sq km, with an elevation of 600-900 meters. Most rivers flow east to west, except Narmada and Tapti, which flow west to east. The plateau features small plateaus, hill ranges, river basins, and valleys.
This plateau is commonly divided into two major sections:
Central Highlands of India

Location: Between the Narmada River (north), Aravallis (northwest), and Vindhyas (south).
Subdivisions:

Malwa Plateau: Extends into Gujarat, Madhya Pradesh, and Rajasthan. It has a dual drainage system, with the Narmada, Tapi, and Mahi rivers flowing toward the Arabian Sea, and the Chambal and Betwa rivers heading towards the Bay of Bengal.
Bundelkhand Plateau: Mainly in Madhya Pradesh, it features the Vindhya hills and is separated by ravines.
Baghelkhand Plateau: Characterized by an uneven surface and the presence of limestones, sandstones, and graphite. Located north of the Malakai ranges.
Chota Nagpur Plateau: Situated in the northeastern part of the Central Highlands, covering Chhattisgarh and Jharkhand. It follows a radial drainage system.

Deccan Plateau of India

Triangular in shape, this plateau consists of four main plateaus and regions:

Deccan Trap: Located in the northwestern part, it has a surface covered in lava.
Western Ghats (Sahyadri): Covering Karnataka, Tamil Nadu, Goa, Kerala, Maharashtra, and Gujarat. Recognized by UNESCO as a World Heritage site and considered one of the world's biodiversity hotspots.
Eastern Ghats: A region of discontinuous mountain ranges on the east coast of India, spanning Telangana, Tamil Nadu, Odisha, and Karnataka. Home to rivers like Godavari, Kaveri, Mahanadi, and Tungabhadra, along with various national parks and wildlife sanctuaries.
North East Extensions (Meghalaya Plateau/Shillong Plateau): Composed of ancient rocks, iron ores, coal, lime, sillimanite, and uranium. This plateau experiences the highest rainfall in India.
This categorization provides a clear overview of the significant plateaus and regions within the Peninsular Plateau of India
Read Also:
Characteristics Of Fold Mountains
Development Indian's northeast region