Chinese Foreign Ministry recently said that the Chinese President will attend the virtual summit of the Shanghai Cooperation Organisation (SCO) being hosted by India.
About Shanghai Cooperation Organisation (SCO)
SCO  is an intergovernmental organization founded in Shanghai, China, on 15 June 2001 by the leaders of China, Kazakhstan, Kyrgyzstan, Russia, Tajikistan and Uzbekistan. 
Apart from Uzbekistan, the other five countries have been a part of the 'Shanghai Five' constituted in 1996 by China to address border security issues with four of its neighbours.
The cooperation was renamed SCO after Uzbekistan joined the organization in 2001.
The SCO currently comprises eight Member States: China, India, Kazakhstan, Kyrgyzstan, Russia, Pakistan, Tajikistan and Uzbekistan.
India and Pakistan became permanent members in 2017.
The main objectives of the SCO are as follows:

Strengthening mutual trust, friendship and neighbourly relations among the member states;
Promoting effective cooperation in political, trade, economic, scientific, technical, and cultural spheres as well as in the realm of educational, energy, transport, tourism, environmental protection, and other areas;
Jointly maintaining and safeguarding peace, security and stability in the region; and
Fostering creation of democratic, fair and rational new international political and economic order.
Who are the Members?
Membership:
The SCO has eight members, including China, India, Kazakhstan, Kyrgyzstan, Pakistan, Russia, Uzbekistan, and Tajikistan. Iran is set to join the SCO.
Observers:
Afghanistan, Belarus, and Mongolia are observers who would like to follow Tehran.
Dialogue Partners:
The list of current and incipient dialogue partners includes Azerbaijan, Armenia, Egypt, Qatar, Turkey, Saudi Arabia, the United Arab Emirates, Maldives, Nepal, and Sri Lanka.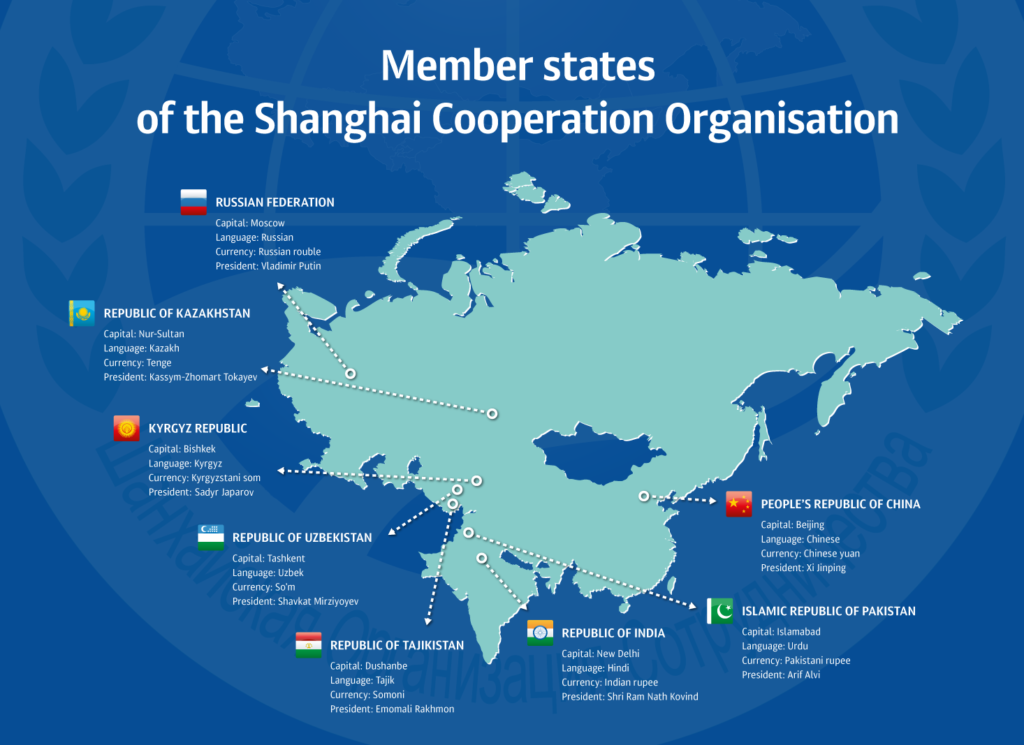 Challenges
China's Rise:
China's rise is increasing the prospects for China's emergence as the dominant force in inner Asia.
This has led to external pressures from other regional powers, such as the United States, which has sought to contain China's rise and limit its influence in the region.
Limited institutional mechanisms:
While the SCO has a number of bodies, such as the Council of Heads of State, the Council of Ministers of Foreign Affairs, and the Council of National Coordinators, these bodies lack the formal decision-making and enforcement powers that are necessary for effective governance.
SCO lacks a formal mechanism for resolving disputes between member states.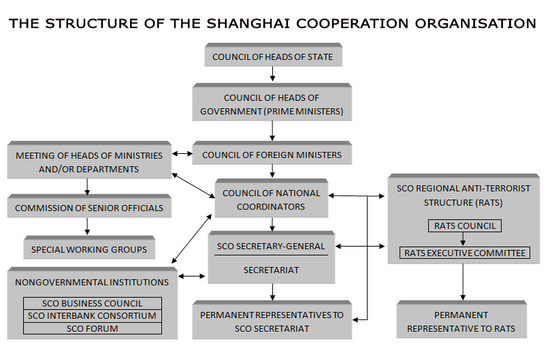 Divergent Interests and Disagreements:
The SCO includes member states with different political systems, economic models, and strategic priorities such as CPEC, border infrastructure projects etc., which can lead to internal conflicts and disagreements on issues such as economic cooperation and security.
Limited geographical scope:
The SCO's geographical focus is limited to Eurasia and neighboring regions, which restricts its ability to engage with global issues and challenges.
Western skepticism and criticism:
The SCO faces criticism from Western countries for its lack of democratic credentials, its support for authoritarian regimes, and its internal conflicts and border disputes among members.
What is the Importance of SCO for India?
Economic Cooperation
Energy Security
Cultural Cooperation
Counterterrorism
Conclusion
The SCO is an attractive forum for regional states, but its internal contradictions are a cause for concern. Preventing conflict between member states is a higher priority for the SCO, but its record here is not impressive. While China's growing regional influence may come at Russia's expense, Russia and China have drawn closer than ever before and have little reason to quarrel over Central Asia. Russia's muscle and China's money provide a sensible basis for their strategic division of labour in Central Asia to keep the Western powers out of the region.
Read also:- Shanghai Cooperation Organization (SCO)-(Indian presidency, Iran new member )(Opens in a new browser tab)